Huawei 5G Mobile WiFi Pro E6878-370
* Huawei 5G Mobile WiFi Pro Router
* Support 5G NSA/SA dual-mode
* 5G Speed: DL to 1.65Gbps, UL to 250Mbps
* WLAN 802.11 a/b/g/n/ac, dual-mode
* Compliant with 3GPP Release 15
* Battery: 8000mAh, can quick charge other devices
Huawei 5G Mobile WiFi Pro E6878 is a new 5G mobile WiFi router and the specific model number is E6878-370. It's the brother model of Huawei 5G Mobile WiFi and has better configurations. Based on Huawei Balong 5000 chipset, the Huawei E6878-370 5G mobile WiFi can transfer 5G signal to high-speed WiFi connection, allowing smartphones, tablets and laptops etc to enjoy fantastic 5G connection. As Huawei first 7nm 5G chipset, Balong 5000 supports NSA and SA dual modes and provides peak 5G download speed up to 1.65Gbps & upload speed to 250Mbps, and WiFi speeds to 867Mbps.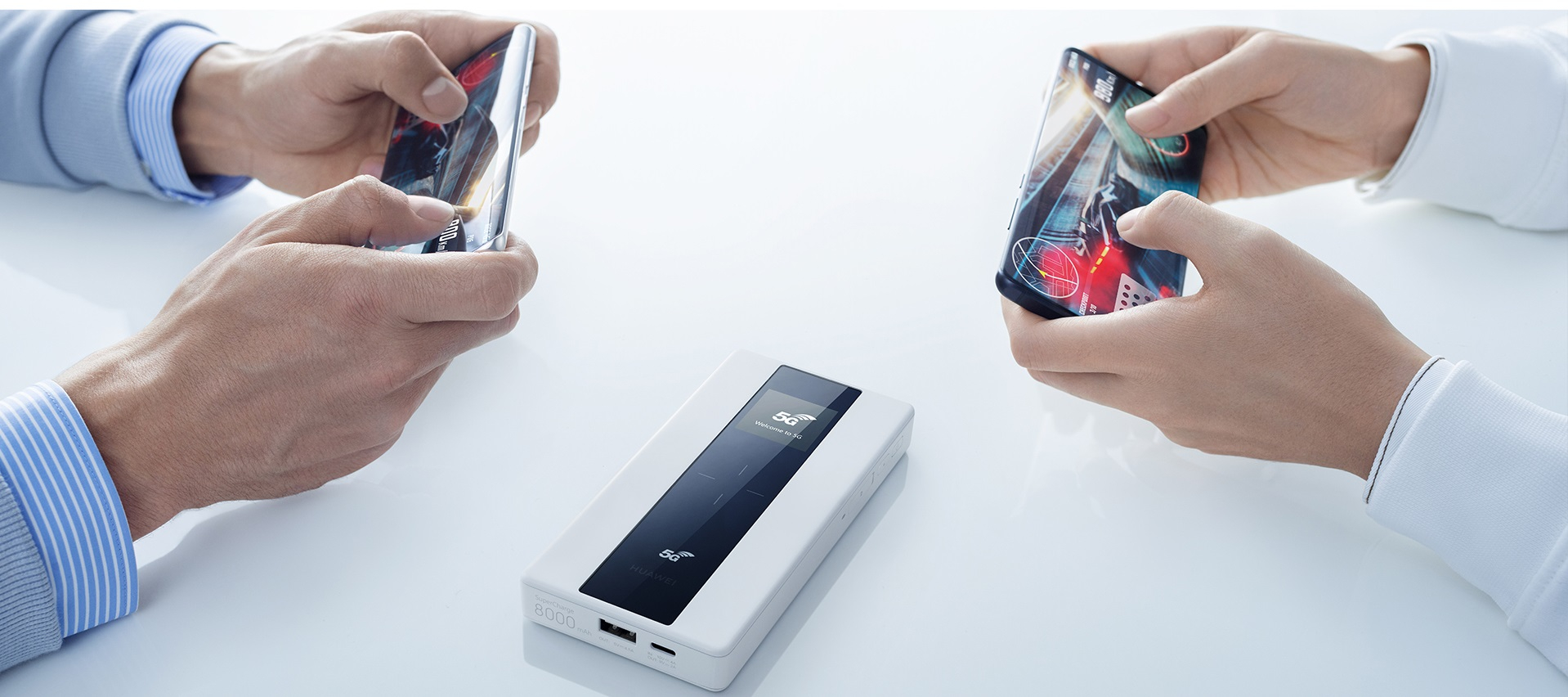 Comparing with the Huawei 5G mobile WiFi E6878-870 of 4000mAh battery, the Huawei E6878-370 5G mobile WiFi Pro has a larger battery pack of 8000mAh capacity, which supports Huawei quick-charge 40W via cable and can keep working for 20 days. What's more, the Huawei E6878-370 can quick charge(22.5W) other devices via cable and quick-charge(15W) other devices wirelessly.
With AI technology, Huawei 5G mobile WiFi pro can predict the scenario and switch the connection between the cell towers, which can improve the wireless speeds up to 20% and reduce the offline & stuck up to 30%. Huawei 5G mobile WiFi Pro can meets the requirements for 4K 60fps HD live broadcasting, which makes it perfect for jounalists, photographers, outdoor anchors, and aerial photographers. With the technology of multiple merge upload, 2-3 units Huawei 5G mobile WiFi Pro working together would provide faster uploading speeds. It's perfect to provide 5G wireless connection for outdoor activities!

Huawei 5G mobile WiFi Pro(E6878-370) Specifications:
* Product type: 5G mobile WiFi router
* Brand: Huawei
* Model Number: E6878-370
* Chipset: Balong 5000 platform
* Support 5G/4G Networks
- 5G network frequency bands: N41, N77, N78, N79
- 4G network frequency bands: B1, B3, B5, B7, B8, B20, 28, B32, B34, B38, B39, B40, B41, B42
* Standard: Compliant with 3GPP Release 15
* 5G Data rates: downlink to 1.65Gbps, uplink to 250Mbps
* 4G Data rates: downlink to 300Mbps, uplink to 75Mbps
* Antenna: built-in 5G/4G main/diversity antenna, built-in dual-band WiFi antenna
* Display: 1.45 inches LCD screen
* WLAN:
- 802.11 ac/a/n, 2×2
- 802.11 b/g/n 2×2,MIMO
- Speeds: 2.4GHz - 300Mbps, 5GHz - 867Mbps
* Interfaces:
- 1 x Type-A port
- 1 x Type-C port
- 1 x SIM card slot(for Nano-SIM card)

* Humidity:
- Working: 5%~95%(non-condensing)
- Storage: 5%~95%(non-condensing)
* Buttons: Power, Menu
* Working Temperature: 0℃~35℃
* Storage Temperature: -20℃~+60℃
* APP management: Huawei Smart Home APP
* Battery: 8000mAh
* Weight: 280g
* Dimensions: 148mm×72mm×18mm
* More functions: wireless network connection(5G/4G), WiFi connection, WiFi encryption, menu UI, WebUI, SMS, power bank, firewall, Pin protection, MAC filter, VPN penetration, IPv6/IPv4, HOTA update
Write your content here...