Do you ever think about how much our world has changed in the last 100 years? Imagine that everything that we today take for granted back then was a fantasy. Or a mad dream. Because the more sides to things we discover the more responsible we are for how we treat them. And that is where we usually go wrong. For example, many people believe that they cannot live without gas. At the same time, they treat it with much less respect than they should have as it can bring a lot of trouble. Luckily, there are a plenty gadgets that can keep an eye on things to feel safer when we are at home or away.
MiJia, one of Xiaomi's ecological chain partners, that has always surprised us with useful smart electronic bits and bobs, has come up with a gas leak detector and a smoke detector. Both devices are made with an assistance of Honeywell who is leading the way with fire and gas safety products. MiJia detectors also have CCCF certification, which all of the devices of this kind undertake before they reach your home.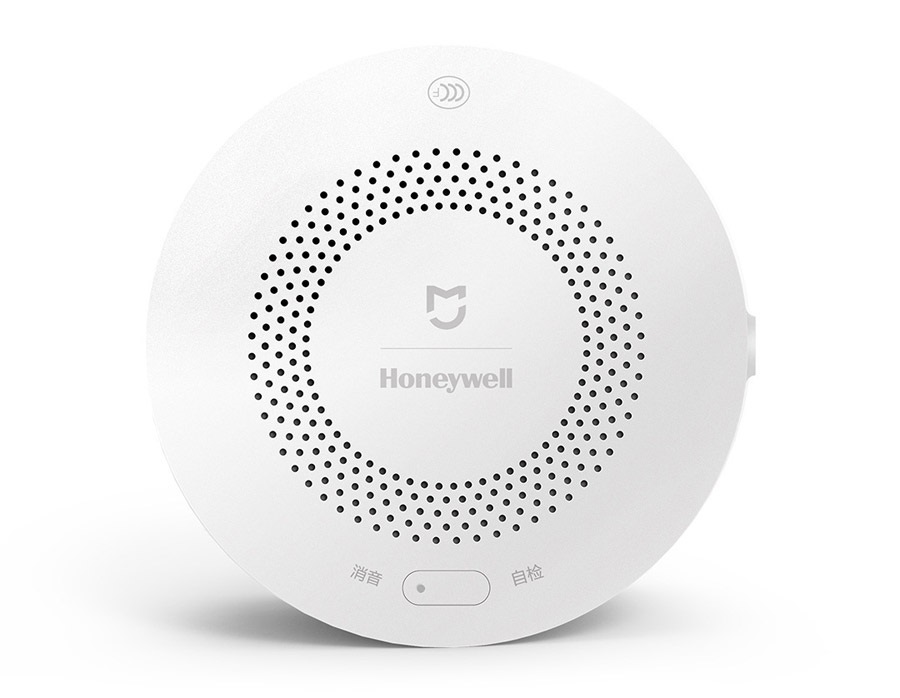 MiJia Honeywell Gas Leak Detector
One of the silliest reasons why gas leak happens is that we simply forget to watch over our cooking pans. We become captivated by a TV-show or a book and do not notice that the boiling water is running out of the pan onto the cooking plate, eventually putting the fire out. But the gas continues to fill up your kitchen with that rotten egg odor. And if we strike a match or turn on the light at the time when gas accumulation is high chances are there will be an explosion. MiJia gas leak detector will do its best to turn that into a highly unlikely scenario.
What is does is monitors the kitchen for dangerous gasses and if it detects a potentially explosive amount of CO it will sound the alarm and immediately send a notification to your smartphone to tell you to open the window and turn the stove off. You can scan the kitchen for combustible gasses any time you want using the app or a button on the device. It is battery operated and does not need any wires.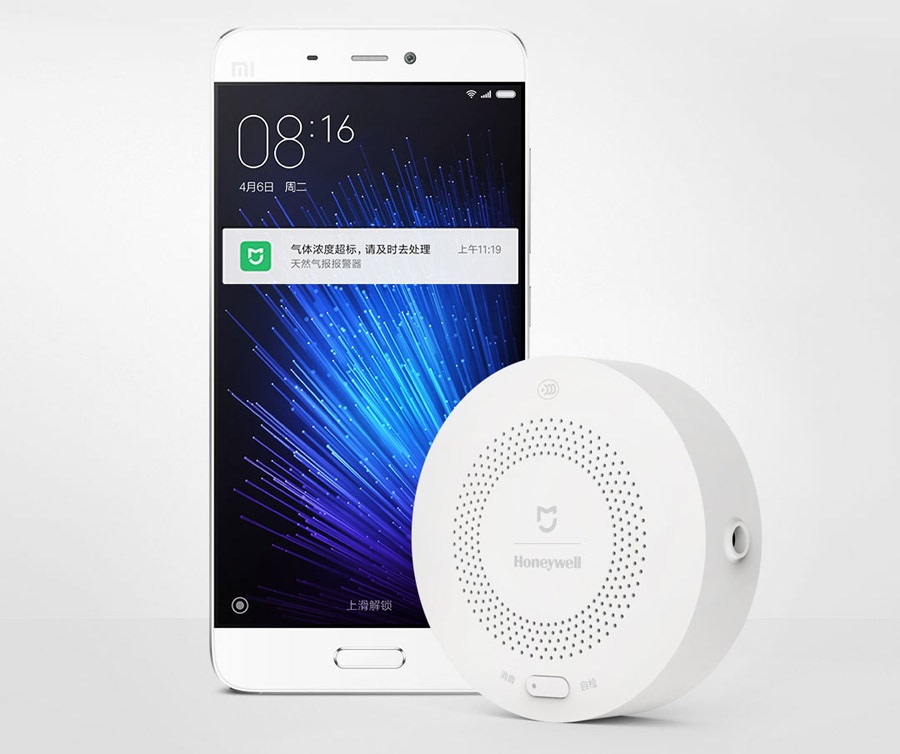 MiJia Honeywell Smoke Detector
It is as essential as the previous one if you have a tendency to burn things in the kitchen. In the unfortunate even of smoke development, it will go off with a loud siren. The detector is also controllable from your Xiaomi device through an app so you can get push messages on your smartphone. Mount it on the ceiling of your kitchen and let it do its job. This fire alarm comes with a battery and its life expectancy is 5 years.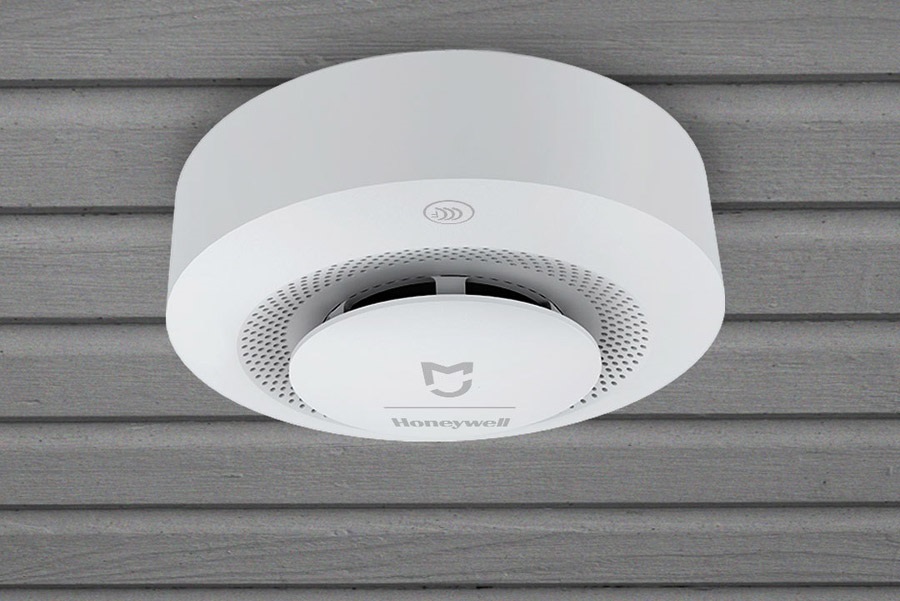 Both detectors are the home's nose. They are very convenient because they do not require you to have special skills to install them and they can be relocated as easily. They also work well with a timer on your Xiaomi smartphone that you can use for cooking.

Key Features...
Smart smoke detector and fire alarm immensely increase property safety levels
Remote access and notifications when paired with Xiaomi gateway
80dB alarm sounds whenever smoke is detected
Can be used individually as regular smoke detector
Xiaomi Mijia Honeywell Fire Alarm
The Xiaomi Mijia Honeywell Fire Alarm will significantly increase the fire safety levels of your household. Being easy to install and attach, this smoke detector can be used virtually anywhere. It can either be used independently as a regular smoke detector or as a smart fire alarm when synchronized with the Xiaomi Multifunctional Gateway. It is powered by a CR123A 3V battery (not included) that will bring along a year of standby time. Additionally, your smoke alarm gives occasional inspection reminders. Thanks to this, it will always be in a proper state to protect your family from potential fire hazards.
When used individually, this Xiaomi fire alarm will sound a loud 80dB alarm. To make full use of its potential, you can synchronize it with the Xiaomi Gateway. When done so, it provides you with remote alerts on your phone whenever smoke is detected. Thanks to this, you'll always be informed about your property's status even when you're not around.
With its Photoelectric smoke sensor, this fire alarm is capable of detecting the smallest amounts of smoke. With this high-quality piece of equipment, your property is always in secure hands. From now on you'll be able to head out again with confidence. The Xiaomi Mijia Honeywell fire alarm will keep you up to date and inform you about any potential hazards even when you're not at home yourself.
This smoke detector comes with a 12 months warranty, brought to you by the leader in electronic devices as well as wholesale electronic gadgets.
.

Manufacturer SpecificationsGeneral
Material: Plastic
Wireless: ZigBee
Alarm sound level: 80dB or above
Battery: CR123A 3V
Standby Time: About 1 year
APP name: Mi Home
Work temperature: -10 to 55 Degree Celsius
Remote alarm
Supported Android and iOS versions: Android 4.4/iOS 8.0 or above
Note: this device can be used alarm function independently, more function need to match the Xiaomi Gateway (CVAII-I549)
Dimensions
Main Product Dimensions: 90x 90x 35mm (L x W x D)
Main Product Weight: 89g
Weight/dimension is for the main item of this boxed product, to help you compare product sizes before buying: please do not base your shipping calculations on this price - shipping prices depend on your cart contents, shipping destination, and shipping method: please use the checkout to select options and preview shipping price for your total order.
Product Notes
Note: this device can be used alarm function independently, more function need to match the Xiaomi Gateway (CVAII-I549)
Package Contents
Detector
Battery
Gummed Paper
Screws