Huawei SuperCharge 2.0 40W Car Ultra-Fast Charger
Huawei CP37 SuperCharge 40W Car Adapter Ultra-Fast Charger for Huawei Mate 20 / Mate 20 Pro / Mate 20 X Smartphone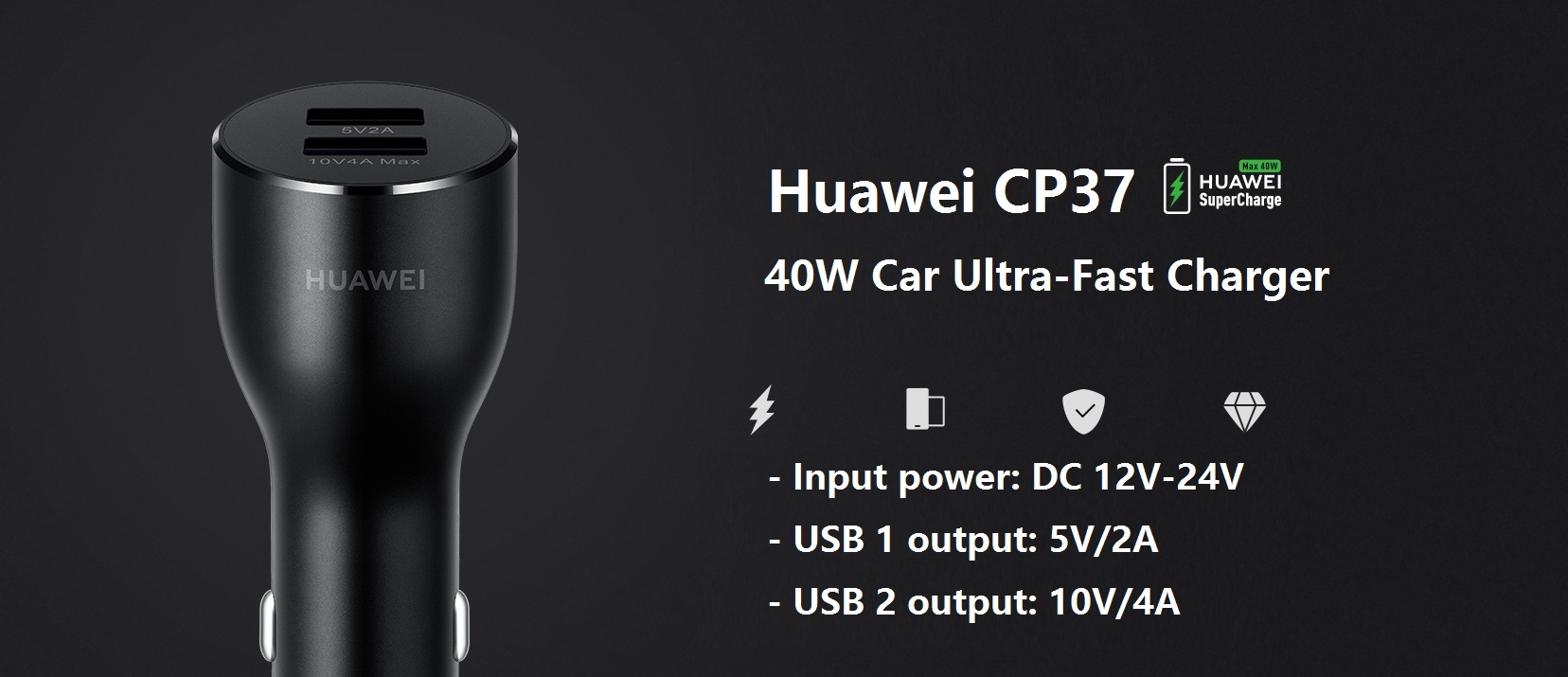 Huawei CP37 SuperCharge 40W Car Ultra-Fast Charger
Designed for your busy lifestyle, the Huawei SuperCharge 2.0 car charger offers the fastest charging capabilities.
With huge 6A of output power, this powerful charger is up to 3 times faster than standard chargers, so you don't have to worry about low battery ever again.
2 A Cable Included
Original 1 m 2 A USB Type-C QuickCharge™ cable is included, which supports both 2 A fast charge & USB 2.0 data transmission.

Specifications:
Input power: DC 12V-24V
USB 1 output: 5V/2A
USB 2 output: 10V/4A
Works with Huawei: G9 Plus, Honor 5C, Honor 6X, Honor 8, Honor 8x, Honor 8x max, Honor 8c,Honor 8 Pro, Honor 9, Honor 10, Honor 10 Lite,Honor Magic, Honor Magic2,Honor V8, Honor V8 Max, Honor View 10, Huawei Mate 9 Porsche Design, Mate 10, Mate 10 Pro, Mate 20, Mate 20 Lite, Mate 20 Pro, Mate 20 X, Mate 20X, Mate 9, Mate 9 Porsche Design, Mate 9 Pro, Mate RS Porsche Design, Mate 20 RS Porsche Design,Nova, Nova 2, Nova 2 Plus, Nova Plus,Nova 3,Nova 3i,Nova 3e,Nova 4, P10, P10 Plus, P20, P20 Lite, P20 Pro, P9, P9 Plus, Y7 2018
Write your content here...