Xiaomi AX9000 Router WiFi6 Enhanced Version
Three Channels/E-sports Edition Model/9000M Super Bandwidth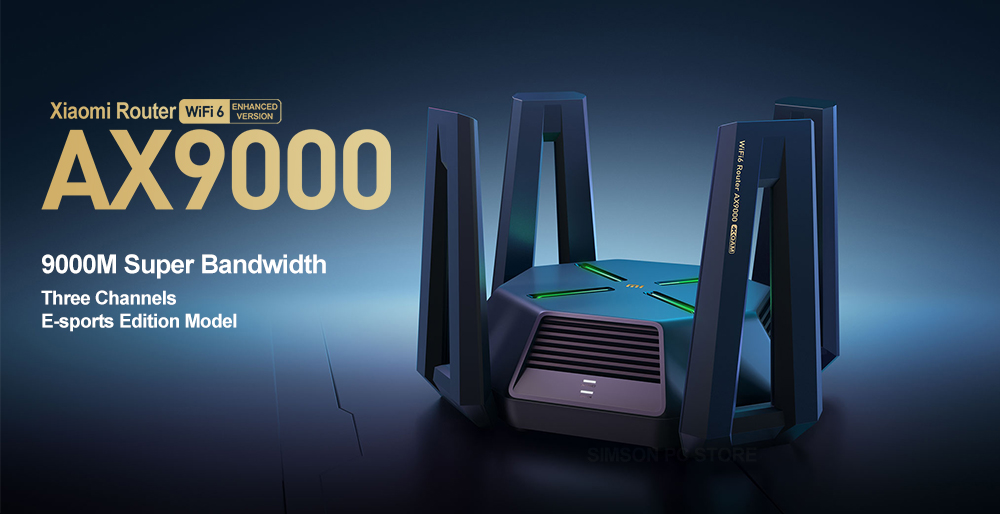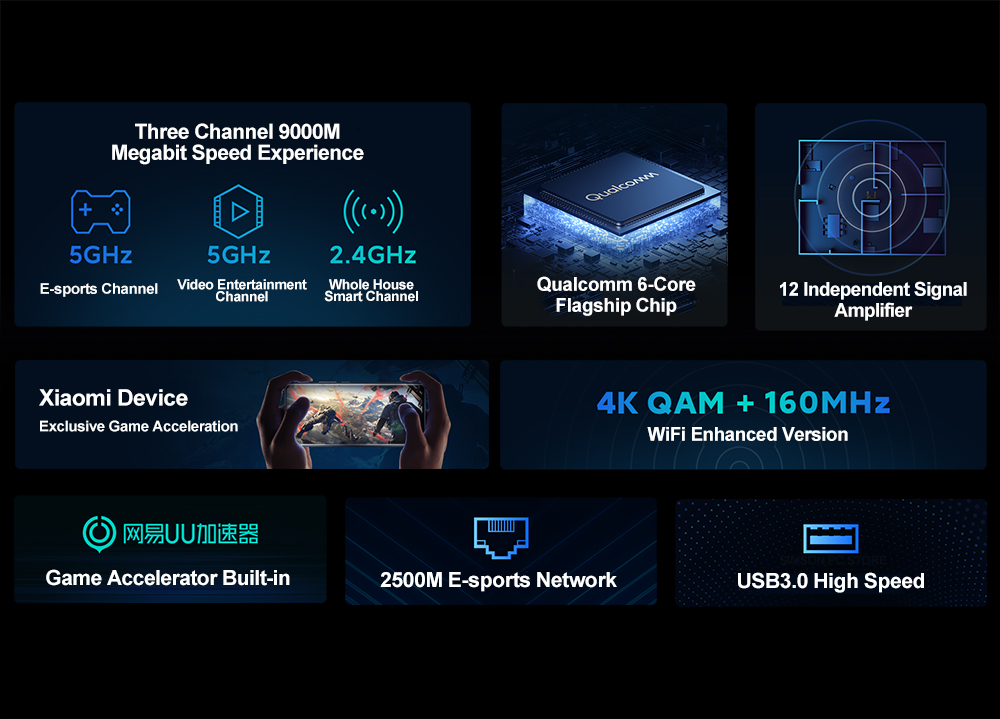 Three Channel Concurrency, Non-Interference
Game Exclusive Channel, Ultra-Low Delay
Compared with the traditional dual-band router, the exclusive frequency band added by the three-band router allows the e-sports devices to enjoy the ultra-high-speed bandwidth and not be interfered by other devices.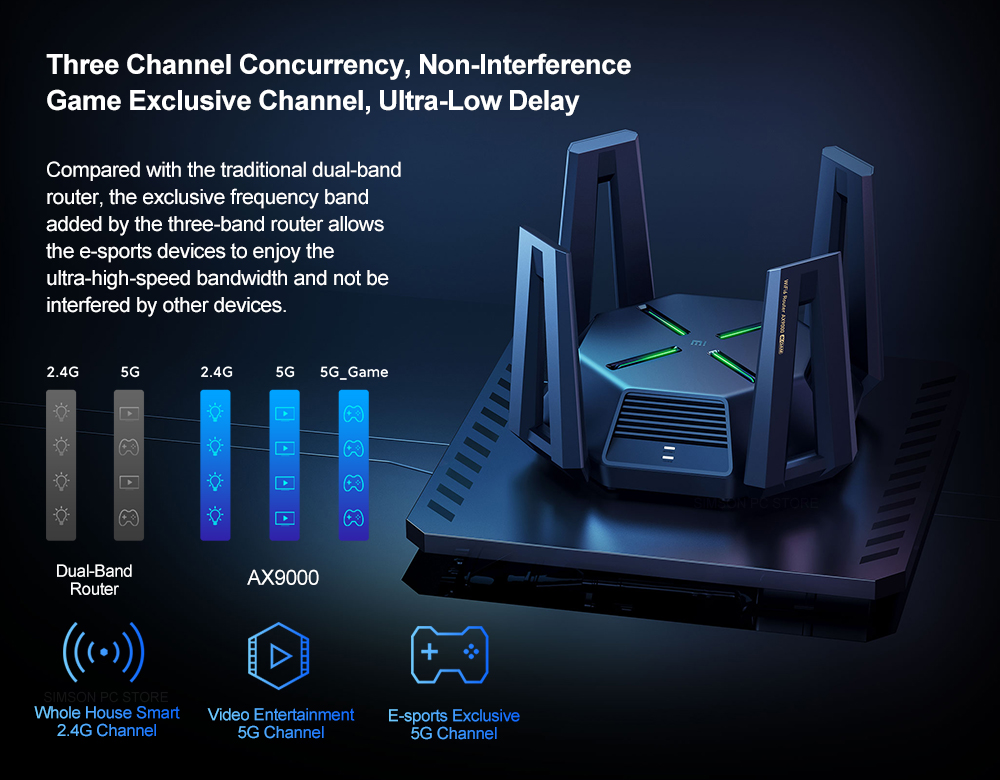 WiFi6 Enhanced Version 9000 Megabit Speed Experience
160MHz High Frequency Width
Compared with 80MHz frequency band, the bandwidth is doubled and the speed is also doubled *, which meets the demand of high-speed connection of multiple devices.
* The 5G_GAME band of Xiaomi router AX9000 supports 4×4 160MHz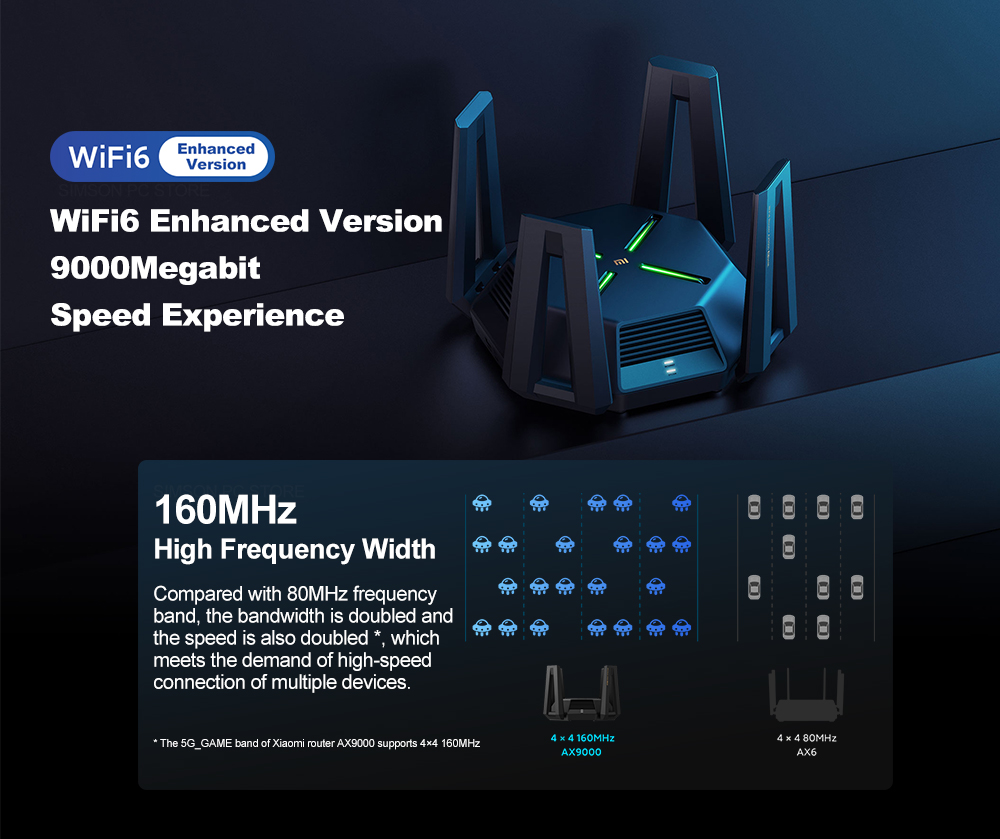 4K QAM High-Speed Transmission
With devices that support 4K QAM, WiFi accelerates by 20%*.

Multi-Device Parallel Efficient Transmission
OFDMA improves the efficiency of each transmission, while MU-MIMO improves the total capacity of transmission *, Combined, the speed is faster and the delay is lower when multiple devices are used at the same time.
* When used with terminals that support 4K QAM technology, the theoretical speed of 5G_GAME frequency band is 20% higher than that of 1024QAM technology, and the actual speed will be different under the influence of terminals and environment.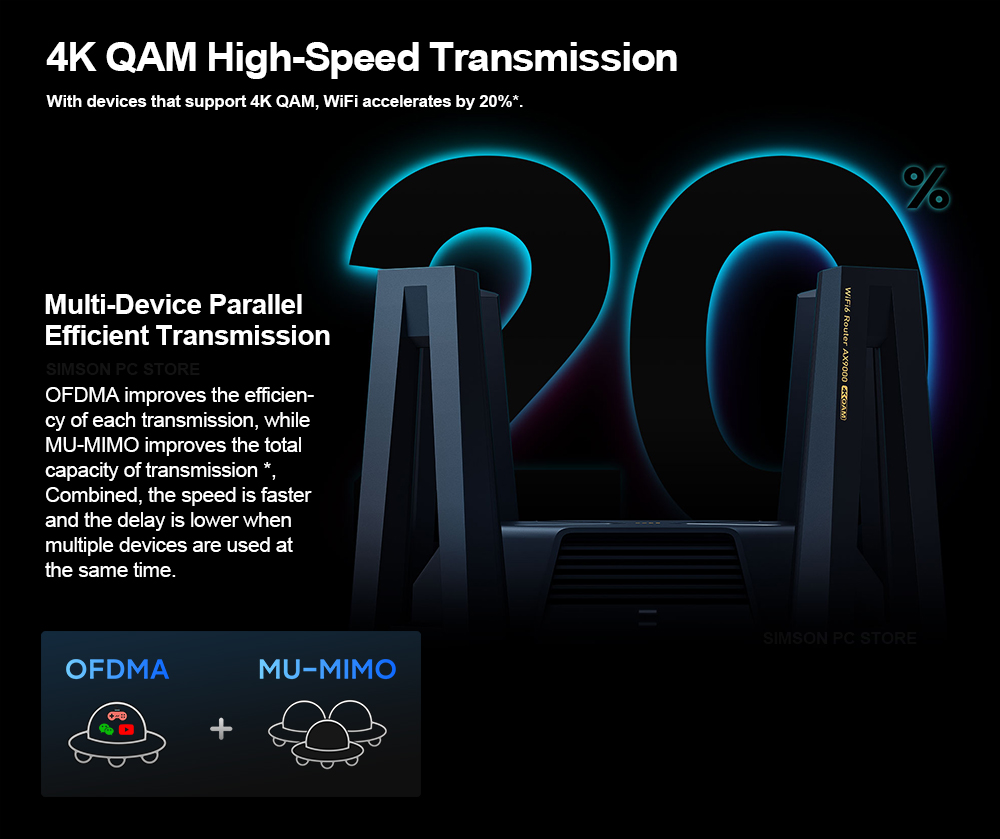 E-sports Level Flagship Configuration
Surging Performance Is Invincible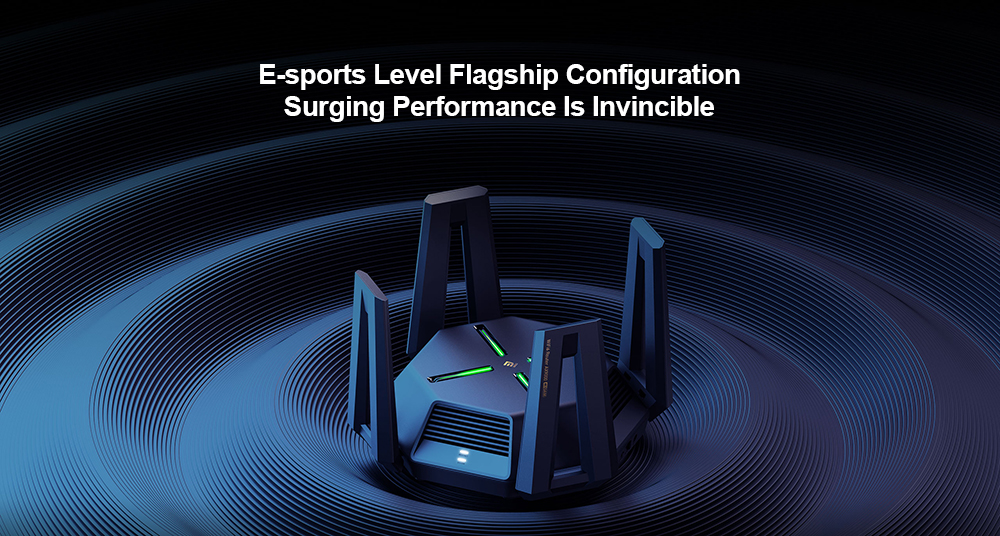 Qualcomm 6-core Flagship Chip
Max Computational Force, MAX Combat Force.
Qualcomm 4-core 2.2GHz CPU + 2-core 1.7GHz NPU (network acceleration engine),
Flagship chips are designed for efficient data transmission and meet the stringent requirements of e-sports networks.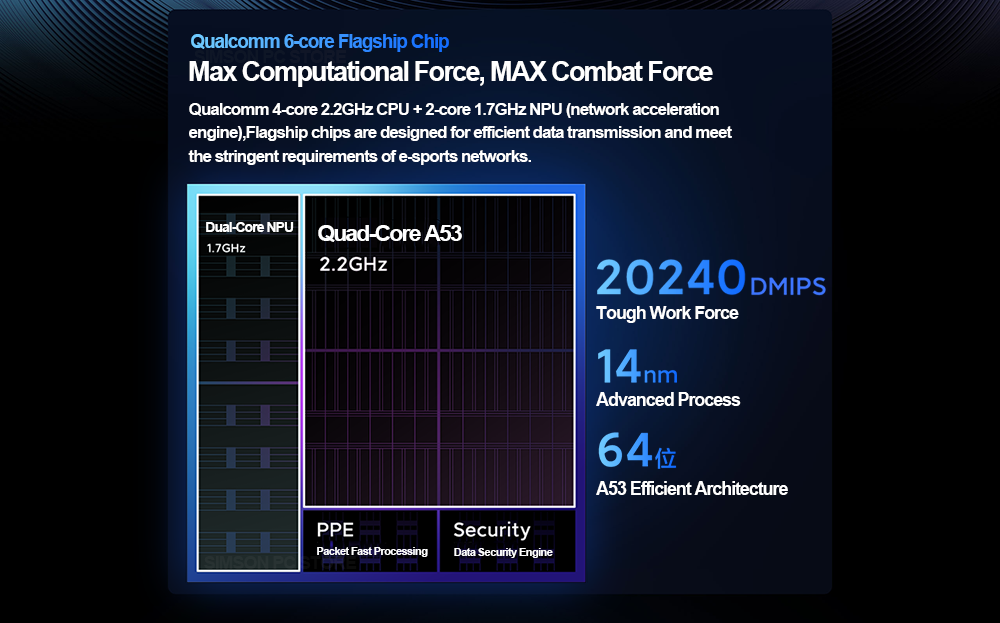 12 Independent Signal Amplifier
Strong Signal Coverage *
Independent signal amplifier can effectively enhance the signal transmission power, at the same time
Improve the sensitivity of signal reception. Super through the wall effect, covering more rooms.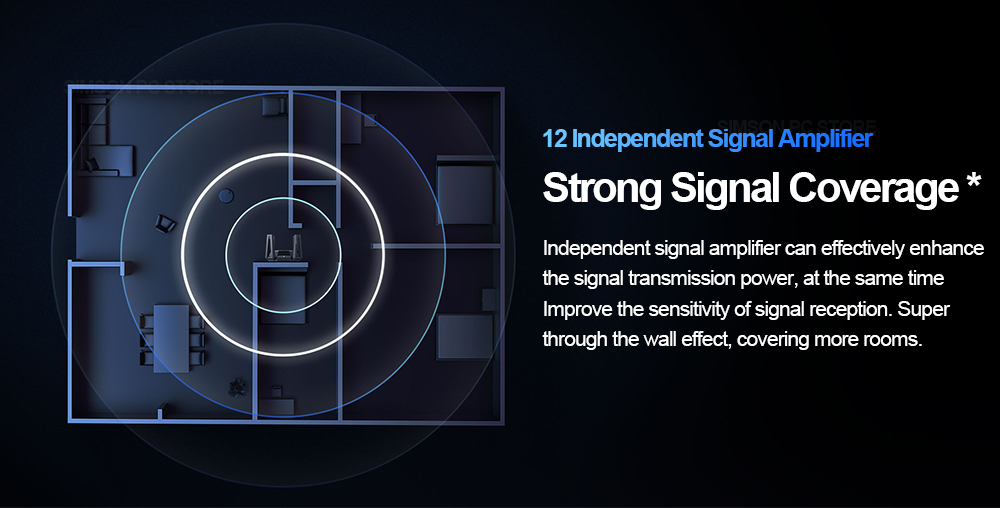 12 High-Gain Antennas
Each antenna group contains three high-gain antennas of 2.4GHz, 5.2GHz and 5.8GHz to provide a wider signal coverage.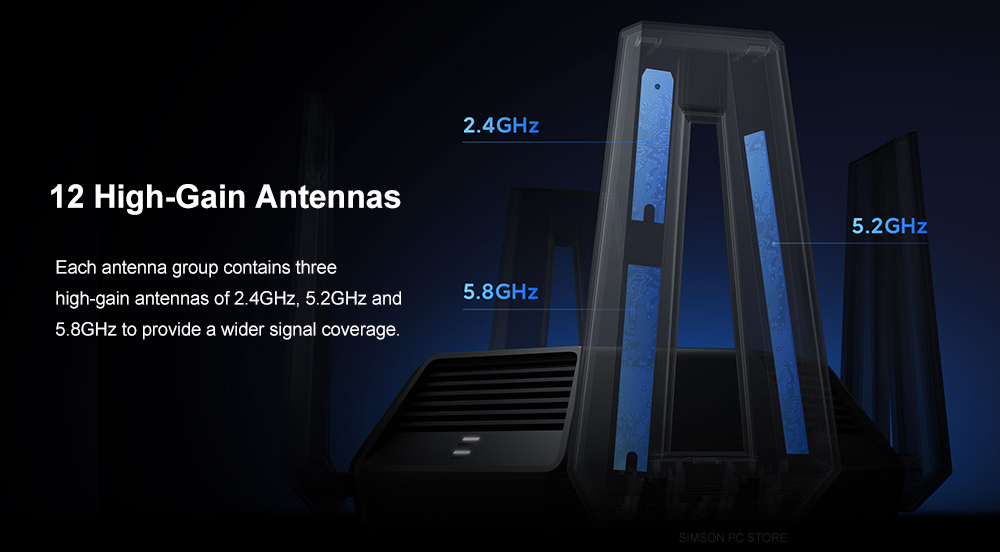 2500M Exclusive Network For E-sports
Cable devices can also enjoy high-speed network of e-sports level, and also support link aggregation * of double gigabit LAN port to meet high-speed transmission of internal network.
*LAN port link aggregation will be supported for OTA upgrades until May 31, 2021.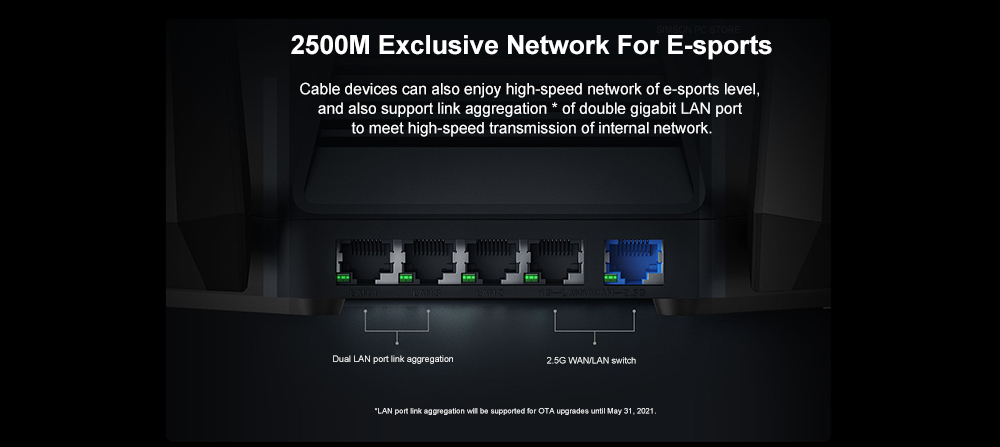 1GB of Extra RAM
Support 1000 devices connected at the same time *, smart home, audio and video entertainment,
Multiplayer games are all satisfied.
*1000 devices is the combined access value of 2.4G/5G/LAN in laboratory conditions, and this capability is scheduled to be supported by OTA upgrades by May 31, 2021.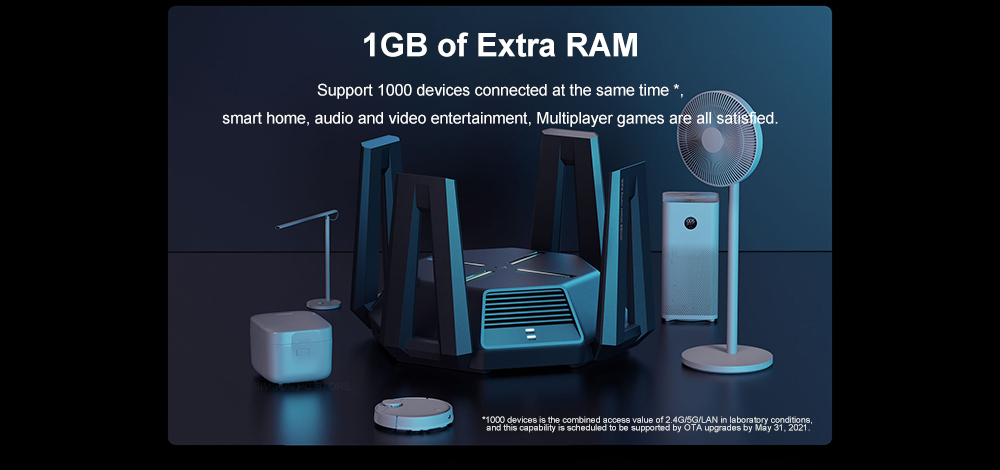 USB3.0 High Speed Interface
Connected to the hard disk, seconds to high-speed family private cloud disk, support Samba protocol,
Mobile phones, TVs and PCs can all be accessed quickly within a local area network.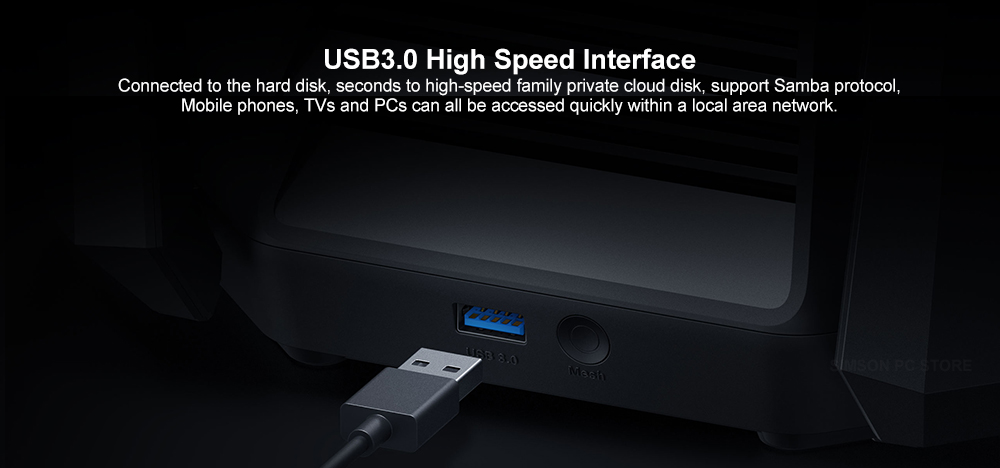 E-sports Exclusive Depth Optimization
Acceleration Across Multiple Platforms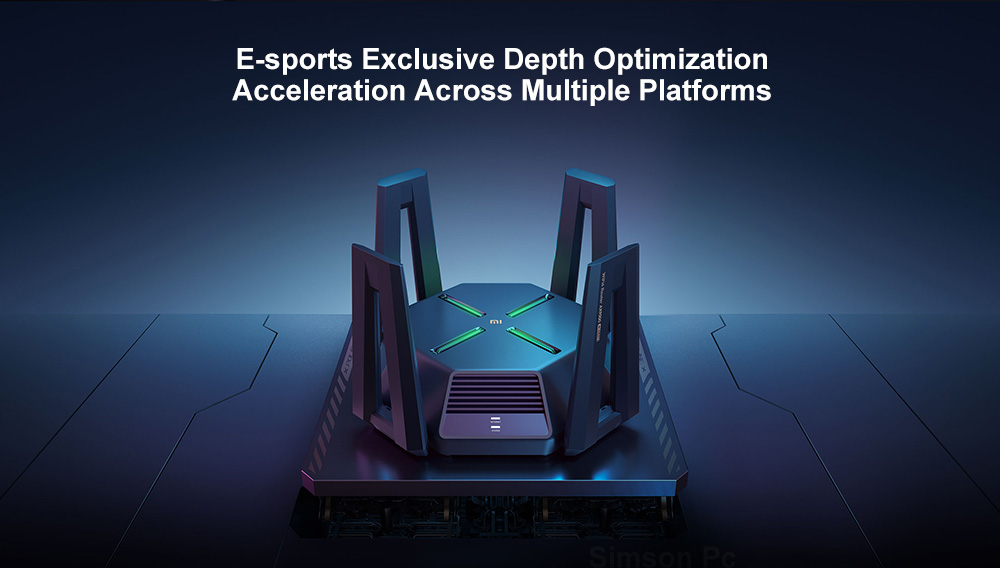 Exclusive Acceleration For Xiaomi Devices
Intelligent recognition of your Xiaomi /Redmi phone * in the game scene
Open the exclusive acceleration channel, significantly reduce the game lag and lag.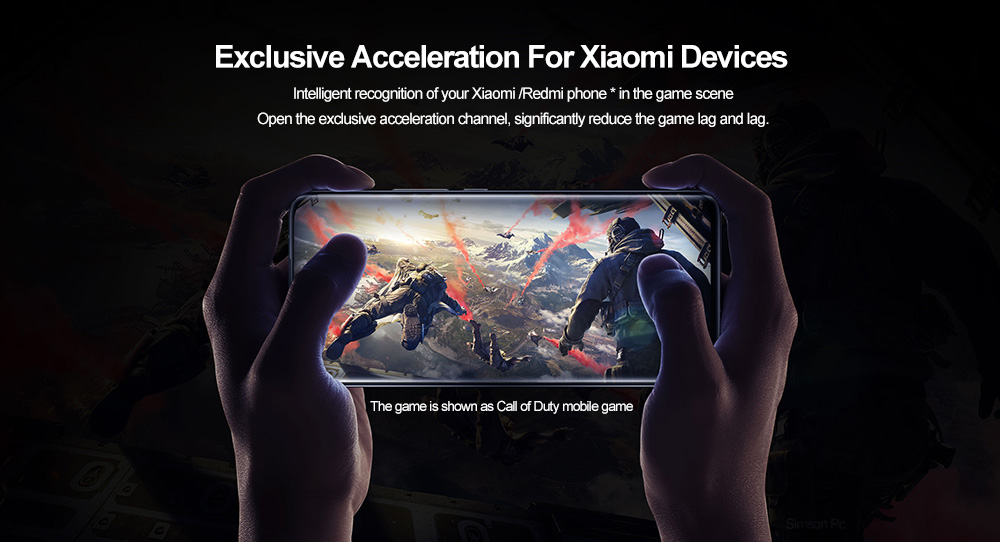 Star Fort
Designed For Professional Gamers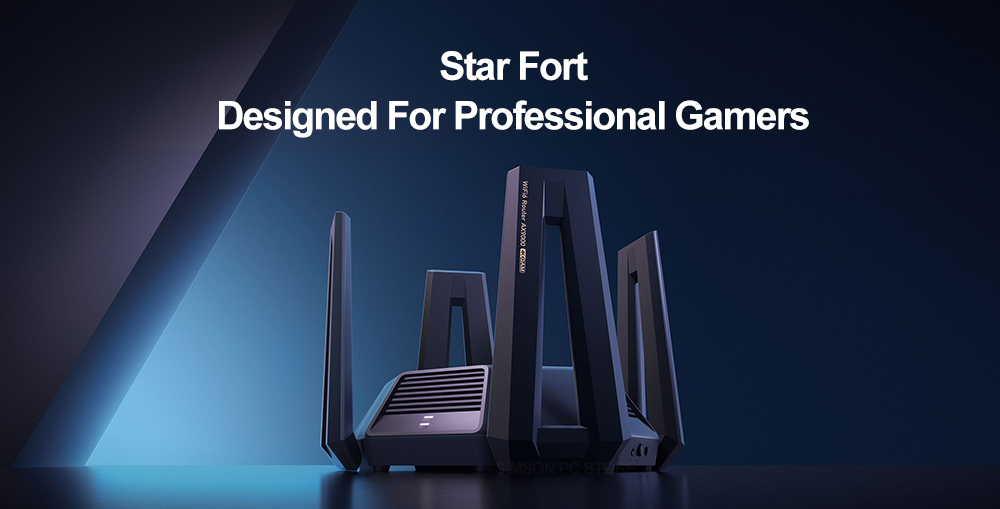 Custom E-sports Light Effect
16 million color X type atmosphere light, you can set your favorite light color,
At the same time also supports breathing, rainbow, stars and other 5 light effect modes.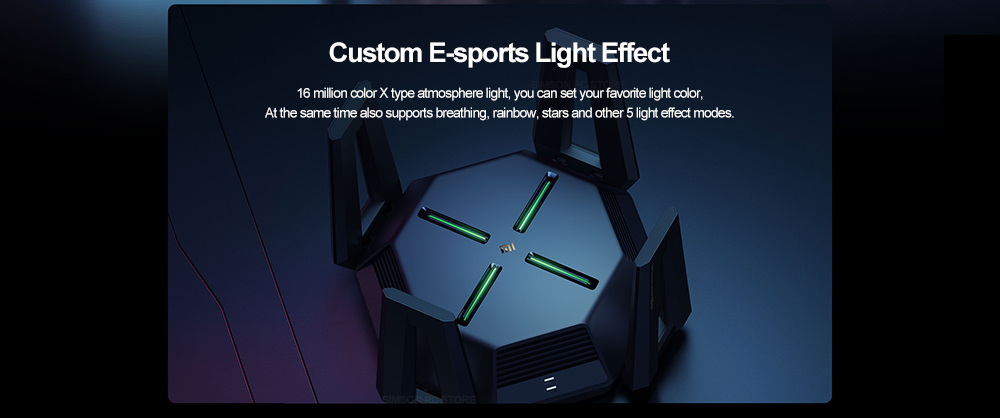 Active Heat Dissipation
Professional thermal simulation design of the air duct, with ultra silent fan. Automatically adjust according to temperature conditions
The fan speed, quiet at night, efficient heat dissipation in fierce battle to ensure stable performance.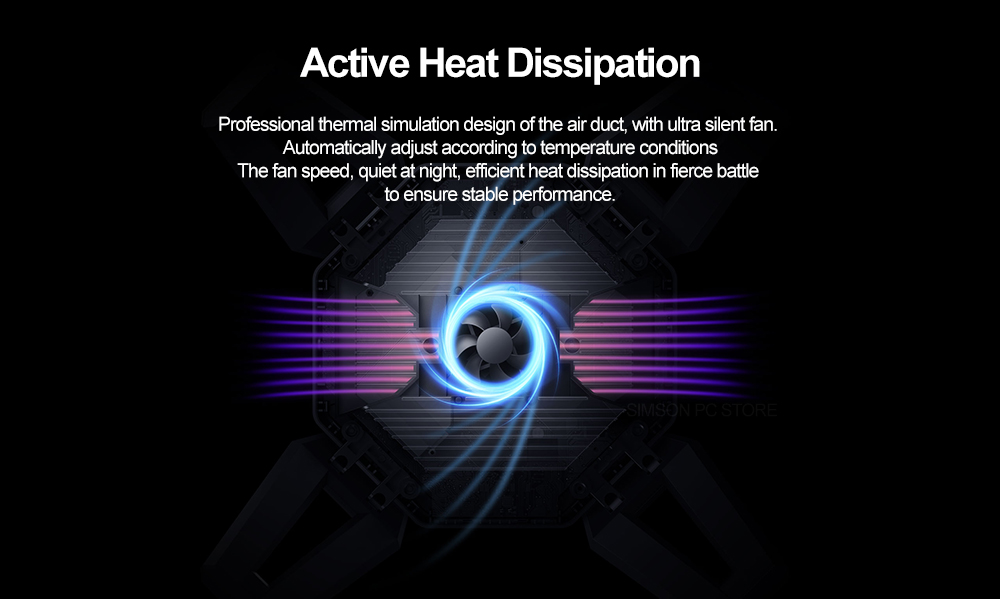 ConnectWith One Key
Building A Whole-House Intelligent Network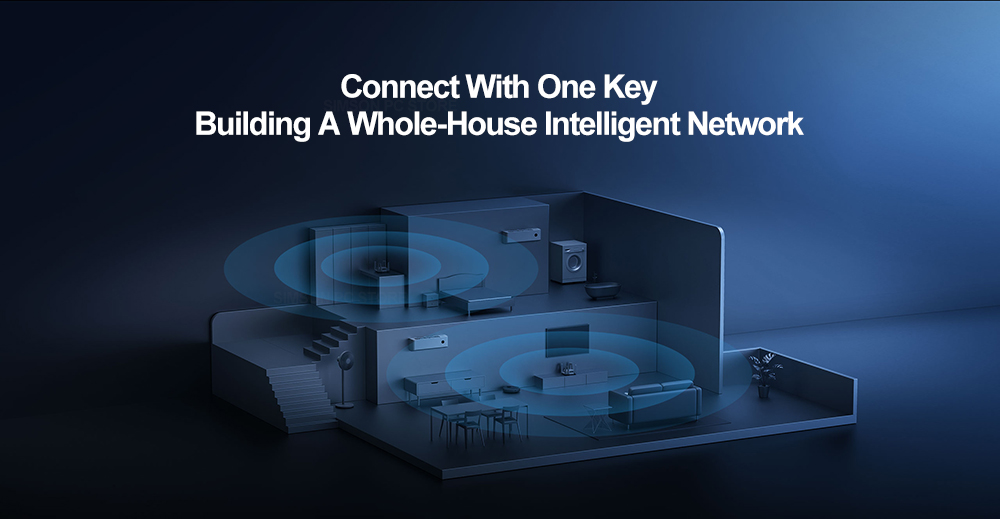 Three Frequency Mesh Networking
One-click configuration of Mesh network, exclusive backhaul frequency band, networking speed is not lost *.
* When two Xiaomi AX9000 Routers are networking, the theoretical throughput rate of Mesh nodes remains unchanged.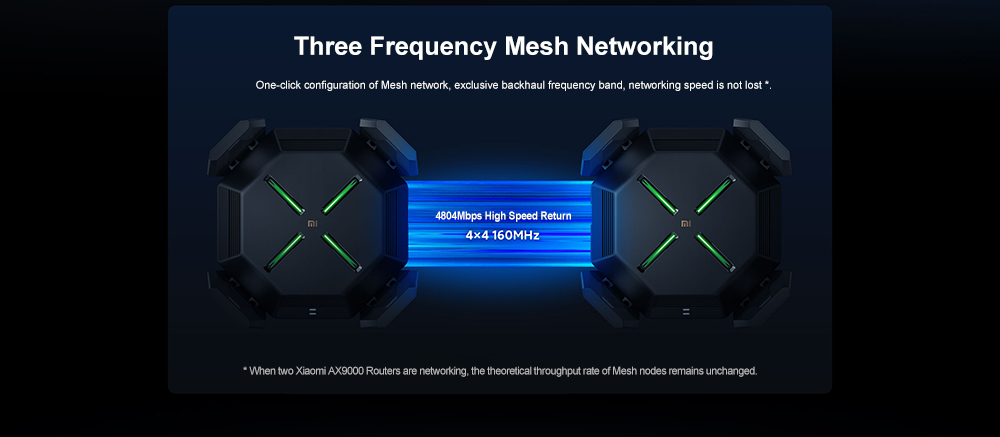 Wifi 6 Mesh Hybrid Networking
Support networking with other models of Xiaomi Wifi6 routers *,
Up to 10 units, the whole house without dead corner coverage.
* Mixed networking with Xiaomi AX6000/AX3600/AX1800 Router and Renmi AX5/AX6 Router .
Automatic Discovery Equipment, One Key Distribution Network
Independent AIOT antenna, can automatically find the smart devices around *, no need to enter a password, one key configuration network.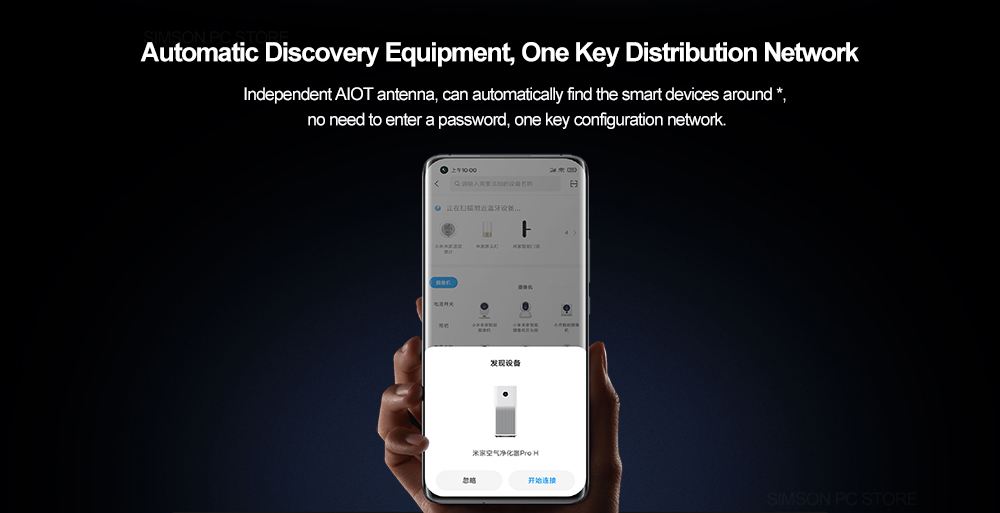 More Professional And Technical Support&Xiaomi Gold Medal Quality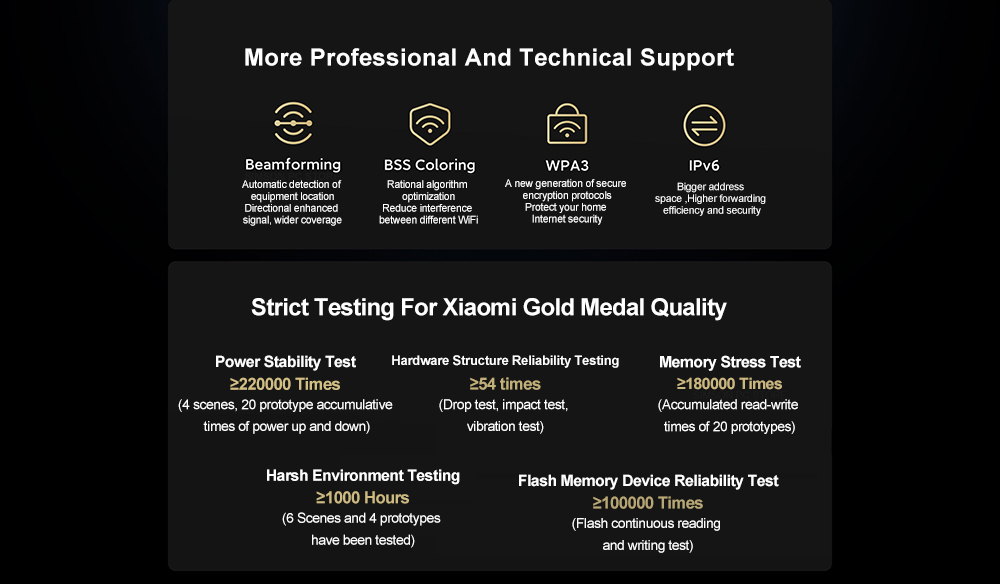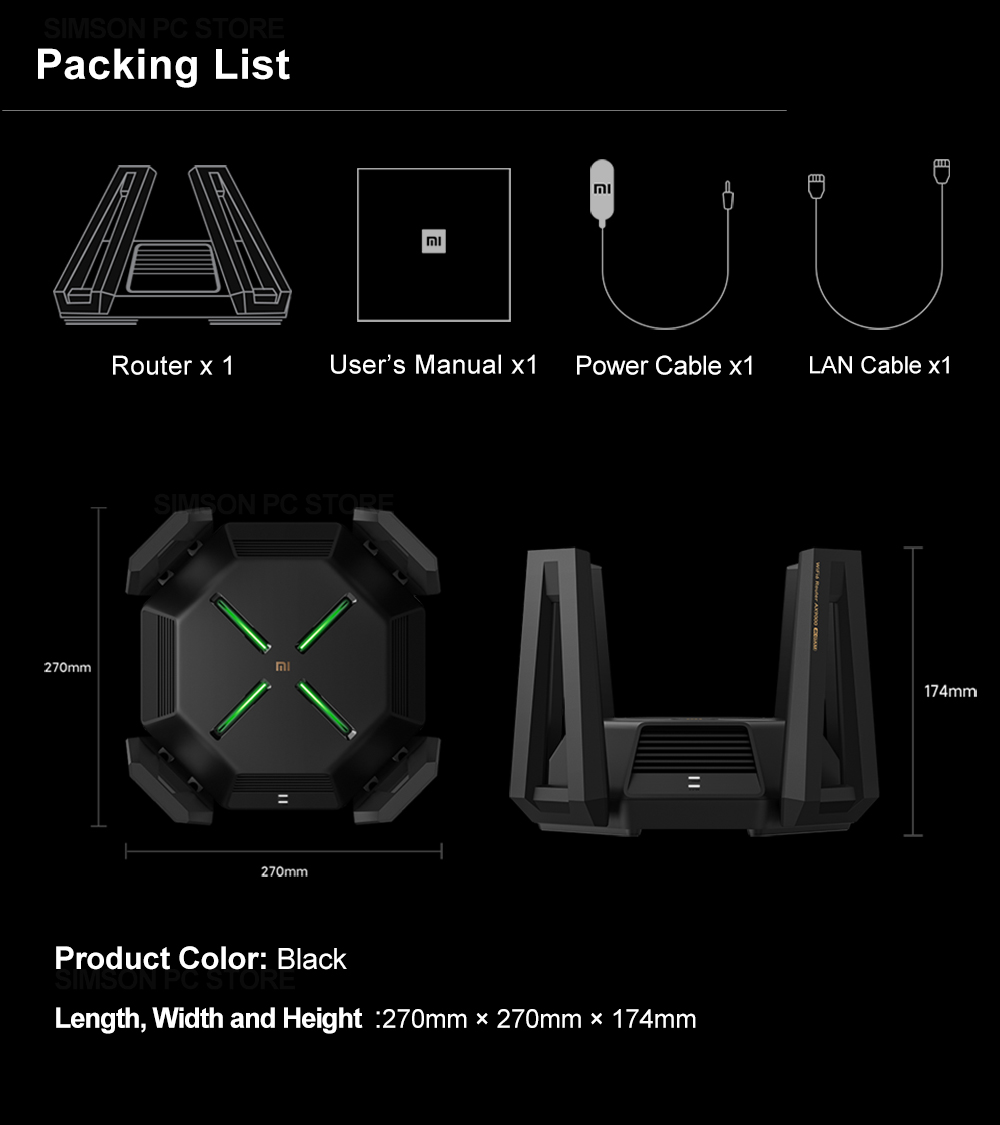 CPU

Qualcomm IPQ8072 Quad-Core A53 2.2GHz CPU

Engine Acceleration Network

Dual-Core 1.7GHz NPU

RAM

1GB

2.4G Wi-Fi

4×4 (IEEE802.11ax 1148Mbps)

5.2G Wi-Fi

4x4(IEEE802.11ax 4804Mbps)

5.8G Wi-Fi

4x4(IEEE802.11ax 2402Mbps)

Antenna

External High Gain Antenna + External AIOT Antenna

Heat Dissipation

Active Heat Dissipation

From The Physical Interface

1* 10/100/1000 WAN/LAN (Auto MDI / MDIX)

1* 10/100/1000 WAN/LAN (Auto MDI / MDIX)

3* 10/100/1000LAN(Auto MDI / MDIX)

Led Indicator Light

1 * System Indicators

1 * INTERNET Indicators

5 * Network Ports

1 * Atmosphere Light

Reset Button

1 * Reset Button

USB Port

1 * USB 3.0 Port

Mesh Button

1 * Mesh Button

Power Button

1 * Power Button

Interface Power Input

1 * Power Input Interface

Wireless Standard

IEEE 802.11a/b/g/n/ac/ax,IEEE 802.3/3u/3ab

Certification Standards

GB/T9254-2008;GB4943.1-2011

Three Channels

2.4GHz,5.2GHz,5.8GHz

Wireless Channel

2.4GHz Channel:1,2,3,4,5,6,7,8,9,10,11,12,13

5.2GHz Channel:36,40,44,48,52,56,60,64

5.8GHz Channel:149,153,157,161,165

Modulation Mode

11b:DSSS:DBPSK(1Mbps),DQPSK(2Mbps),CCK(5.5/11Mbps)

11a/g:OFDM:BPSK(6/9Mbps),QPSK(12/18Mbps),16QAM(24/36Mbps),
64QAM(48/54Mbps)

11n:MIMO-OFDM:BPSK,QPSK,16QAM,64QAM.

Rate Set: MCS0~MCS15

11ac: MIMO-OFDM:BPSK,QPSK,16QAM,64QAM,256QAM

Rate set:MCS9~ MCS0 (4 streams compatibles)

11ac:MIMO-OFDM:BPSK,QPSK,16QAM,64QAM,256QAM.SIMSON

11ax:MIMO-OFDM:BPSK,QPSK,16QAM,64QAM,256QAM,1024QAM.

Rate Set: MCS0~MCS11(support 4 streams).4096QAM.

Rate Set: MCS12~MCS13(support 2 streams)

Operating System

MiWiFi ROM, an intelligent router operating system deeply customized based on OpenWRT

Wireless Security

WPA-PSK / WPA2-PSK / WPA3-SAE encryption, wireless access control (black and white list), hidden SSID

Management APP

Web,Android and iOS support website.

Work Environment

Operating Temperature: 0 ~ 40 ° C

Storage Temperature: 10% ~ 90% RH Non-condensing

Operating Humidity: -40 ~ 70 ℃

Storage Humidity: 5% ~ 90% RH Non-condensing