Baseus Metal Gleam Series 12-in-1 Multifunctional Type-C HUB
Baseus 8K/30Hz USB C HUB Type C to HDMI-compatible USB 3.0 Adapter PD 100W DP RJ45 12 in 1 HUB Dock Station for MacBook Pro Air
Total 40Gbps Bandwidth for More Efficient Work
Starjoy 12-port Type-c HUB Adapter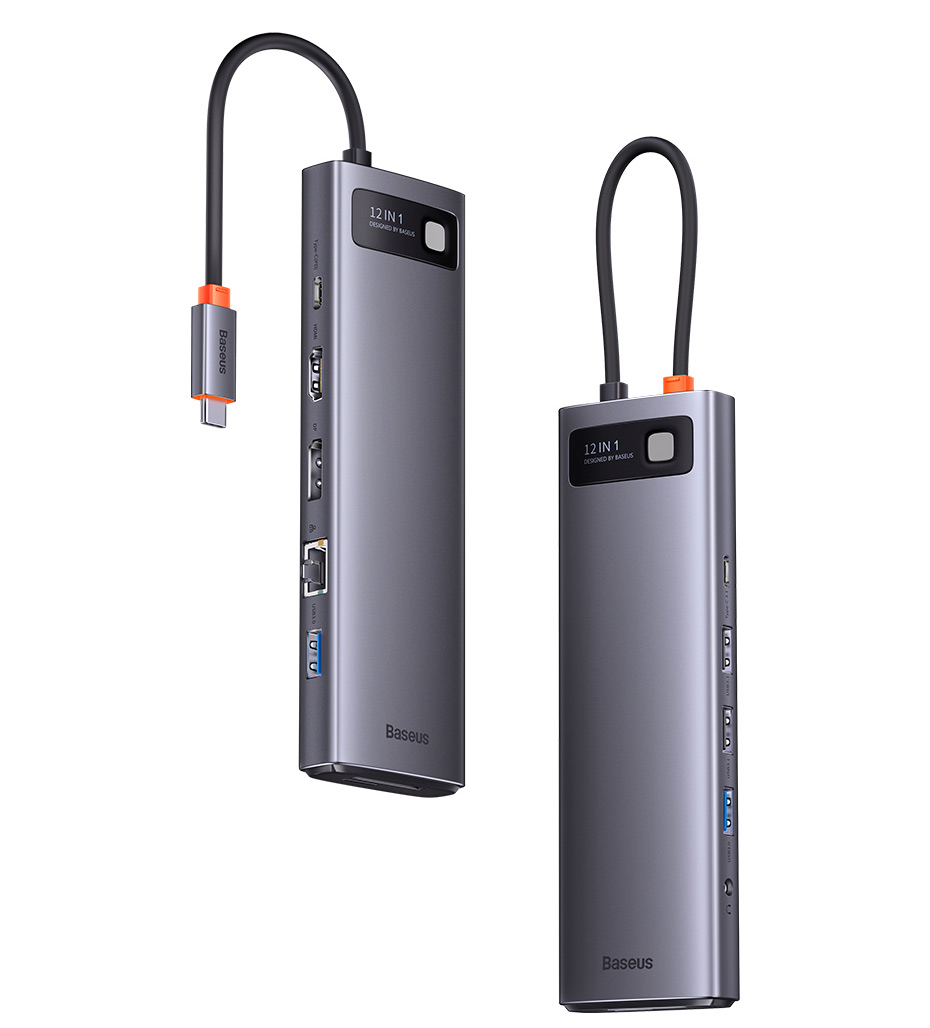 *12 expansion ports, Satisfying all your need
*4K HD/DP expansion, Higher efficiency
*8K@30Hz, Ultra-clear display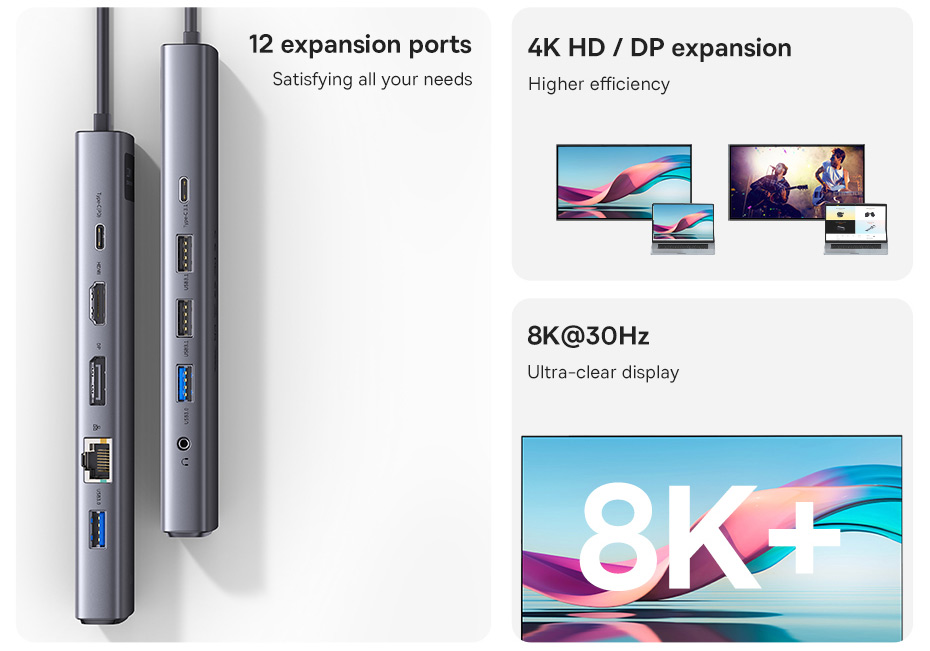 *Total 40gbpsbandwidth, super fast transmission
*PD 100W High power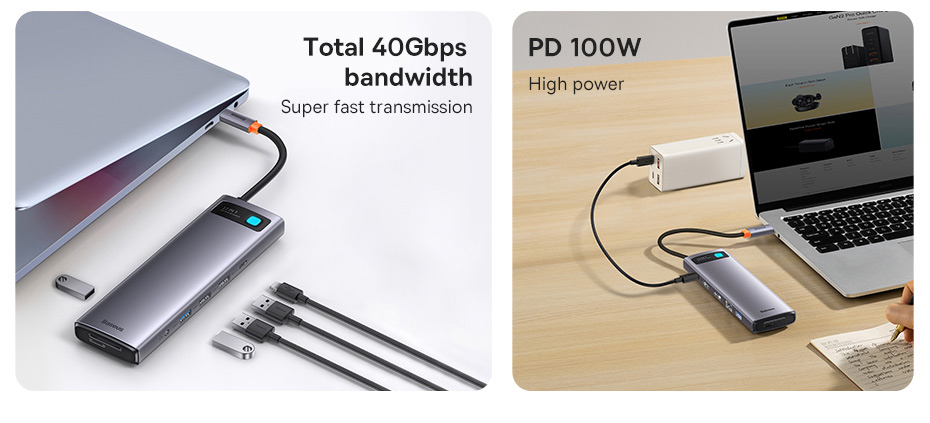 Winner of Various International Design Awards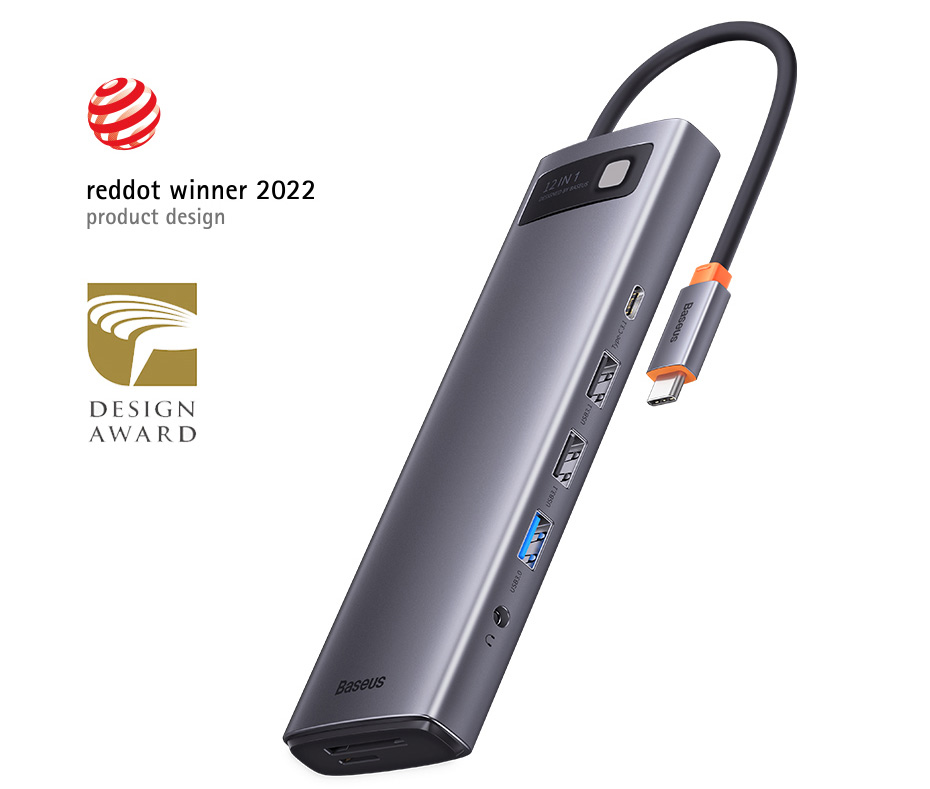 12 in-1
Multi-devices Connection
The perfect solution for laptops lacking of extension ports
Note : Support simultaneous use with multi-port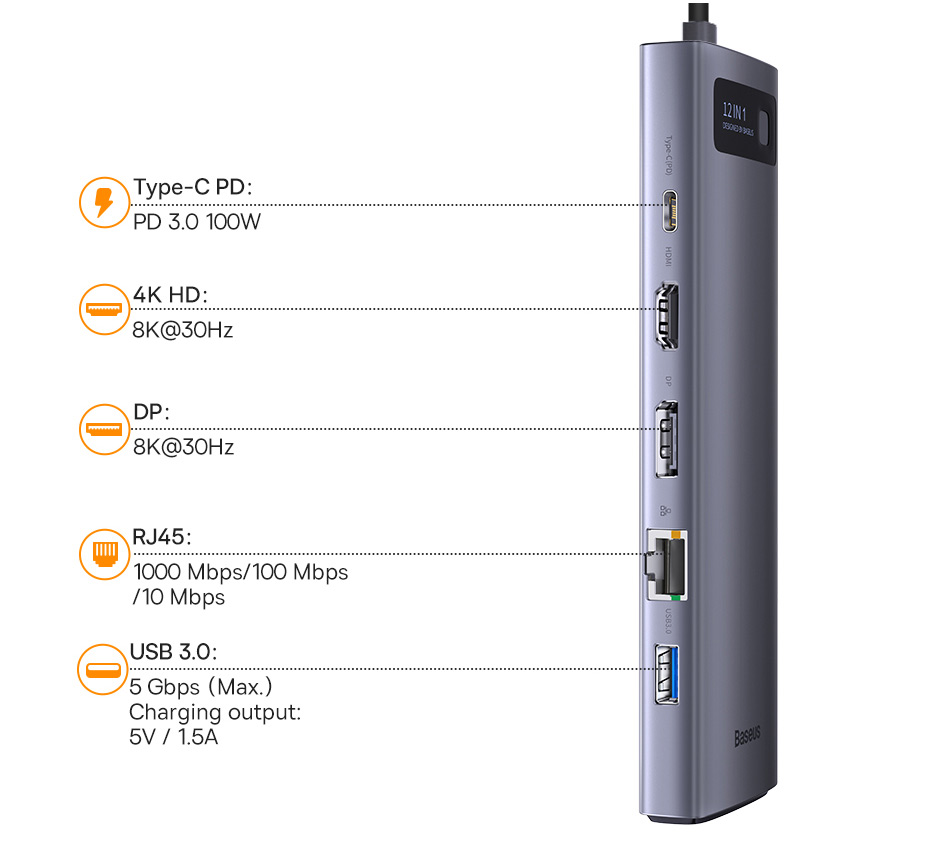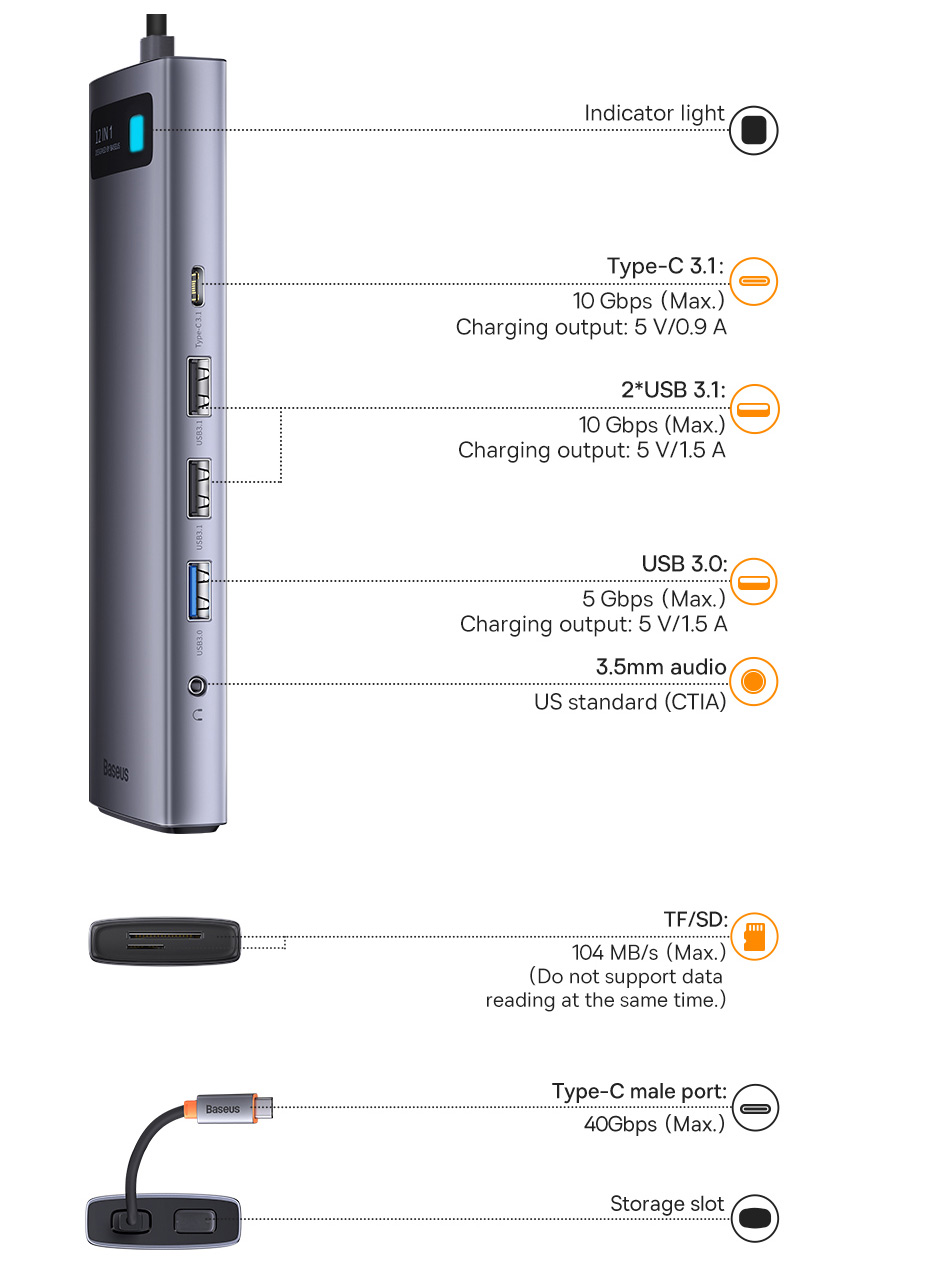 Type-c Male Port
Total 40Gbps Bandwidth
Single port supports 4TB hard drives, up to 10 Gbps transmission rate, faster than ever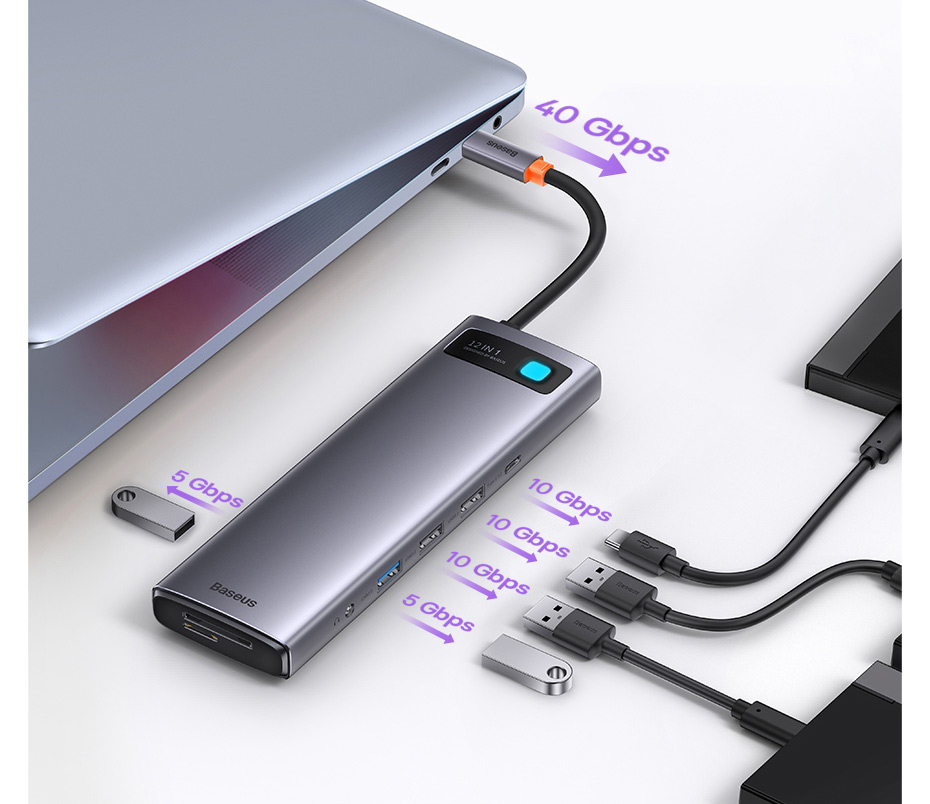 4K HD/DP
8K@30HZ Clarity
Bigger and Clearer
Higher efficiency at work with bigger and clearer shared screens.
*8K@30Hz, 4K HD high resolution *8K@30Hz, DP high reolution *3D Viual effects

4K HD/DP
4K HD/DP Expansion for Higher Efficiency
Support mirror and expand modes, good for projectors, TV, monitors and other devices
Mirror Mode
Windows System
Picture mode (A+A+A)/ Resolution ratio (7680*4320P@30Hz)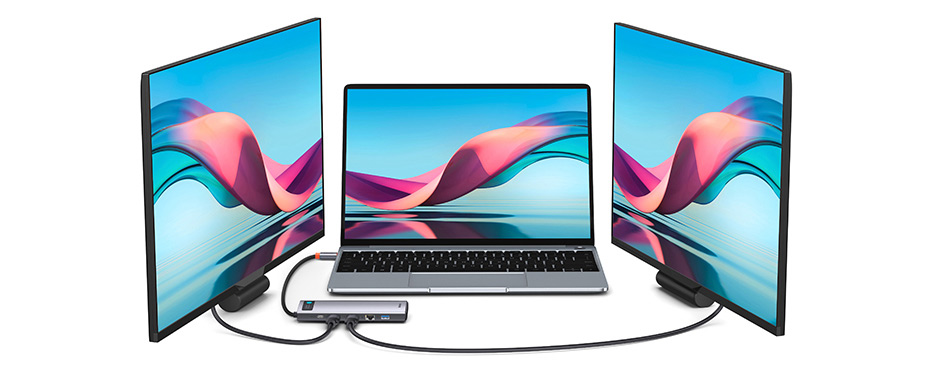 Apple OS System
Picture mode (A+A+A)/ Resolution ratio (3840*2160P@60Hz)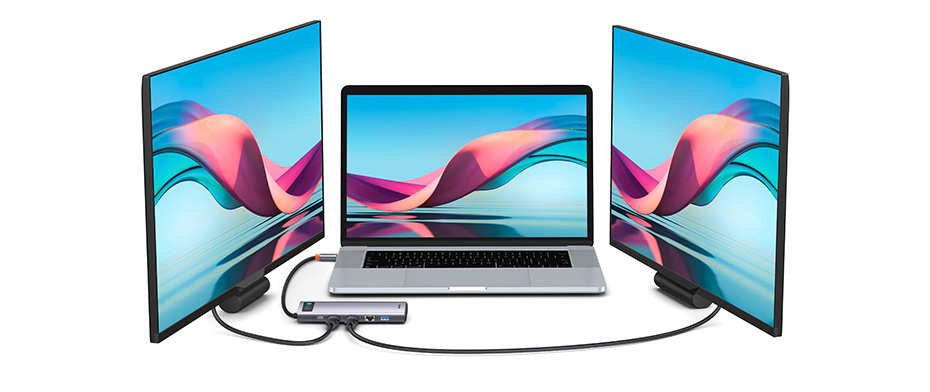 Expansion Mode
Windows System
Picture mode (A+B+C)/ Resolution ratio(3840*2160P@60Hz)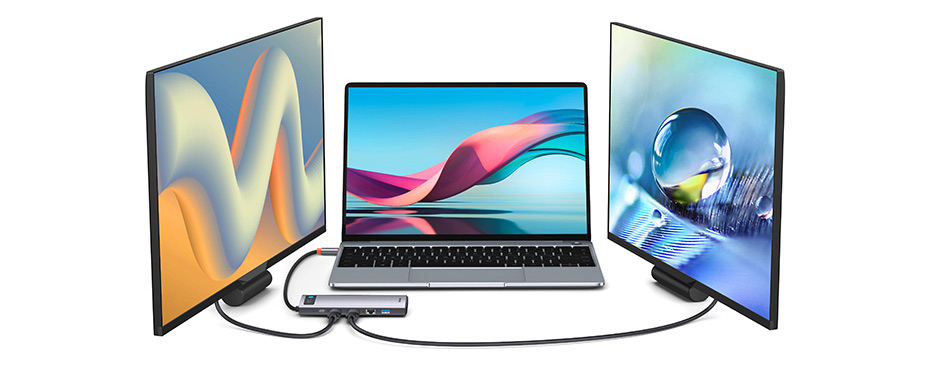 Apple OS System
Picture mode (A+B+B)/ Resolution ratio(3840*2160P@60Hz)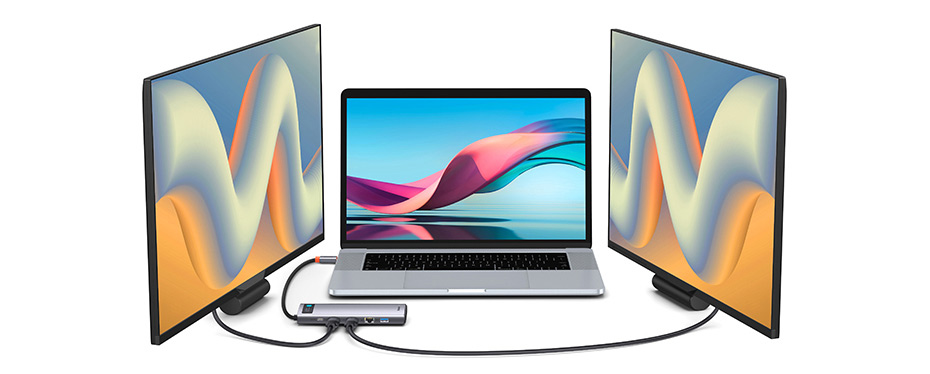 RJ45
Rapid Network Speed
Smooth and Stable
Supports 1000 Mbps/100 Mbps/10 Mbps, good for work and fun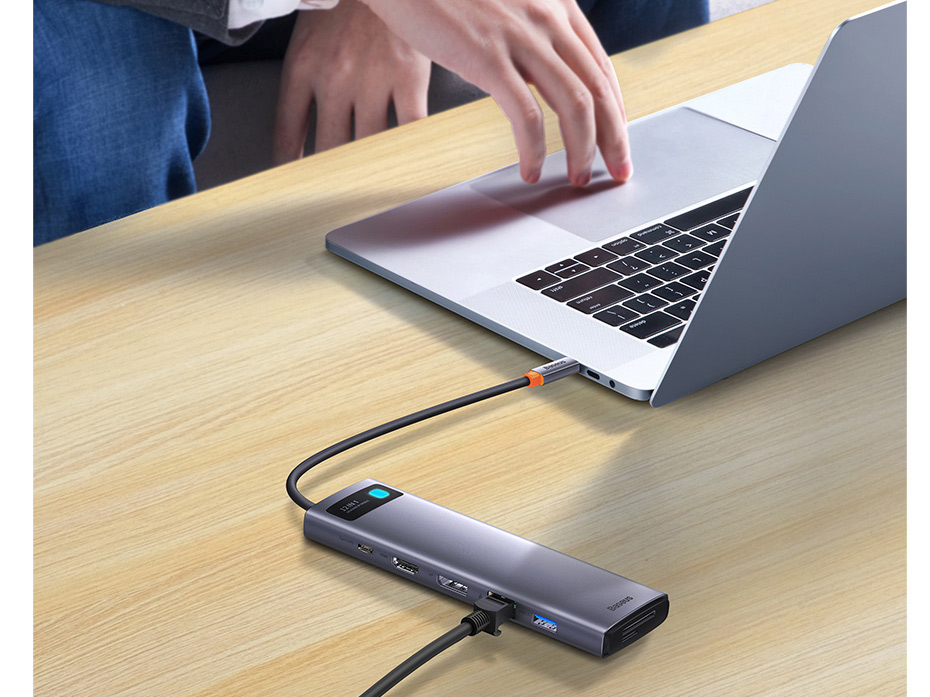 Type-C PD
Power Back in a Jiffy
PD 3.0 fast charging certified, fully charging your phone/tablet/laptop instantly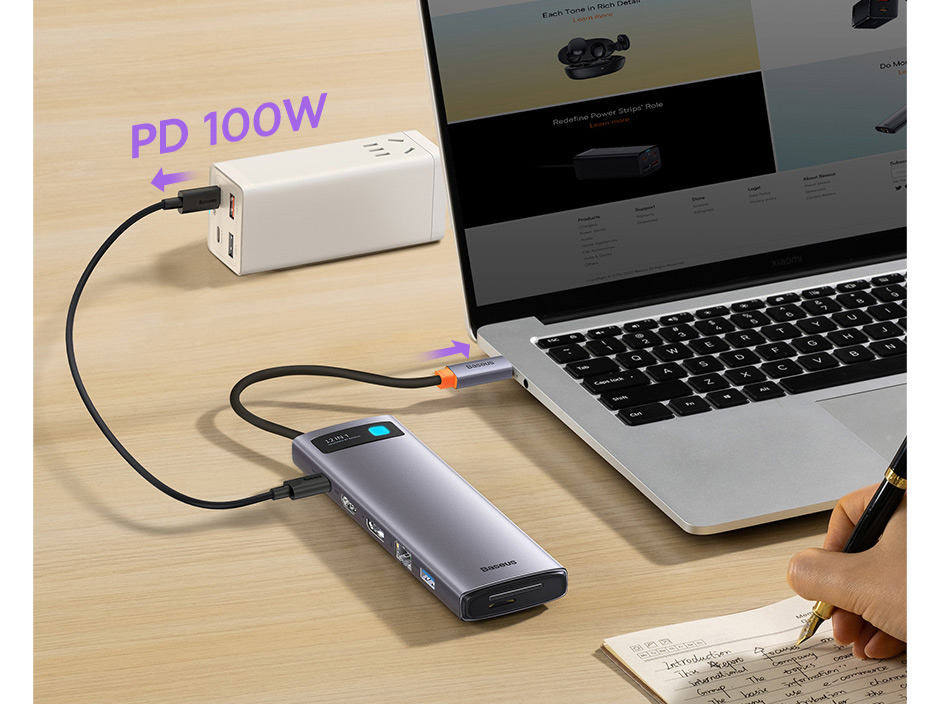 USB 3.1+USB 3.0
BC1.2 Charging Protocol Certified
Supports charging for your phones at the sametime, no more waiting.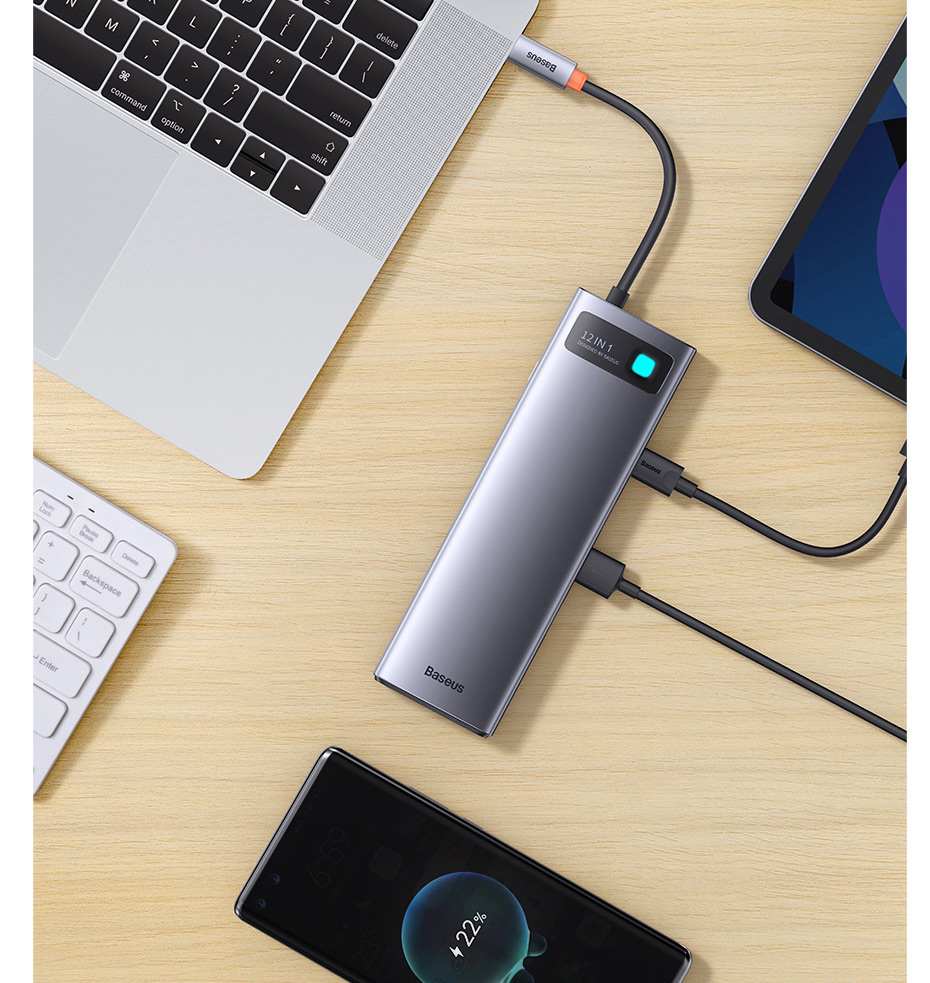 Support fast charge
5V/1.5A
Charging output: 5V/1.5A (Port: USB 3.1/USB3.0)
Charging output: 5V/0.9A (Port: Type-c3.1)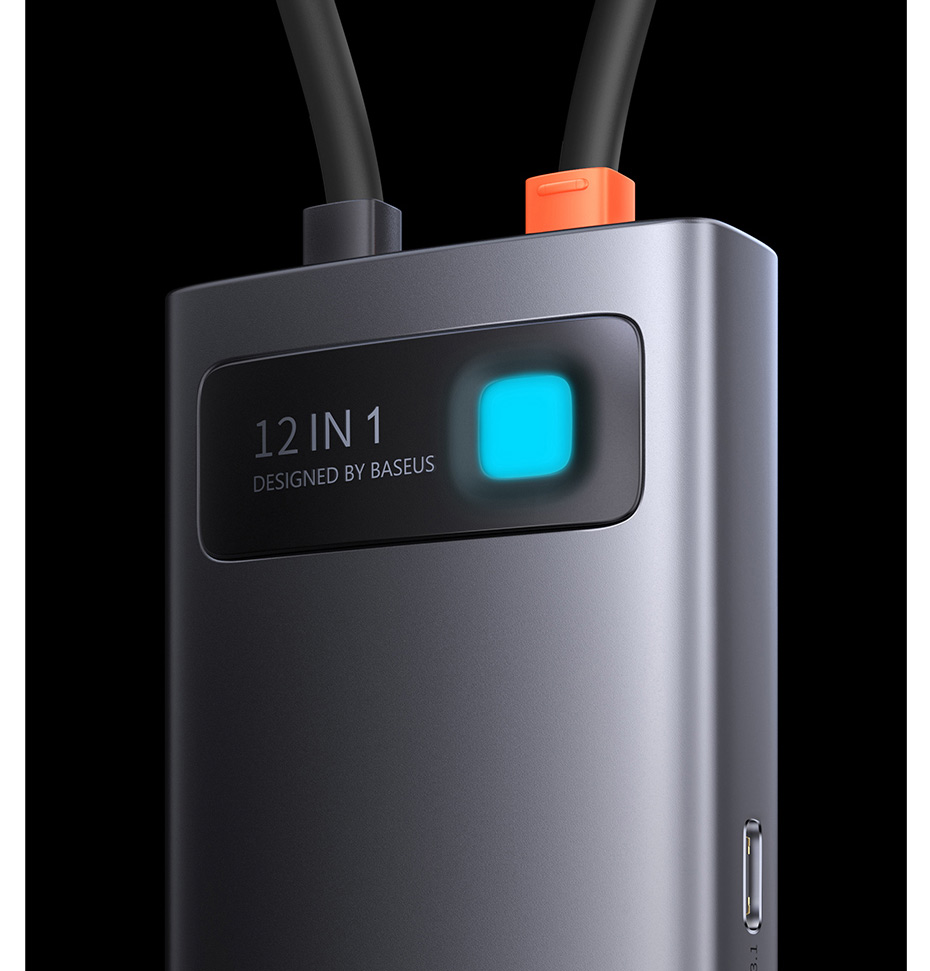 Excellent Heat Dissipation
Stable and Durable
Integrated design with anodizing aluminum alloy material, exquisite and sturdy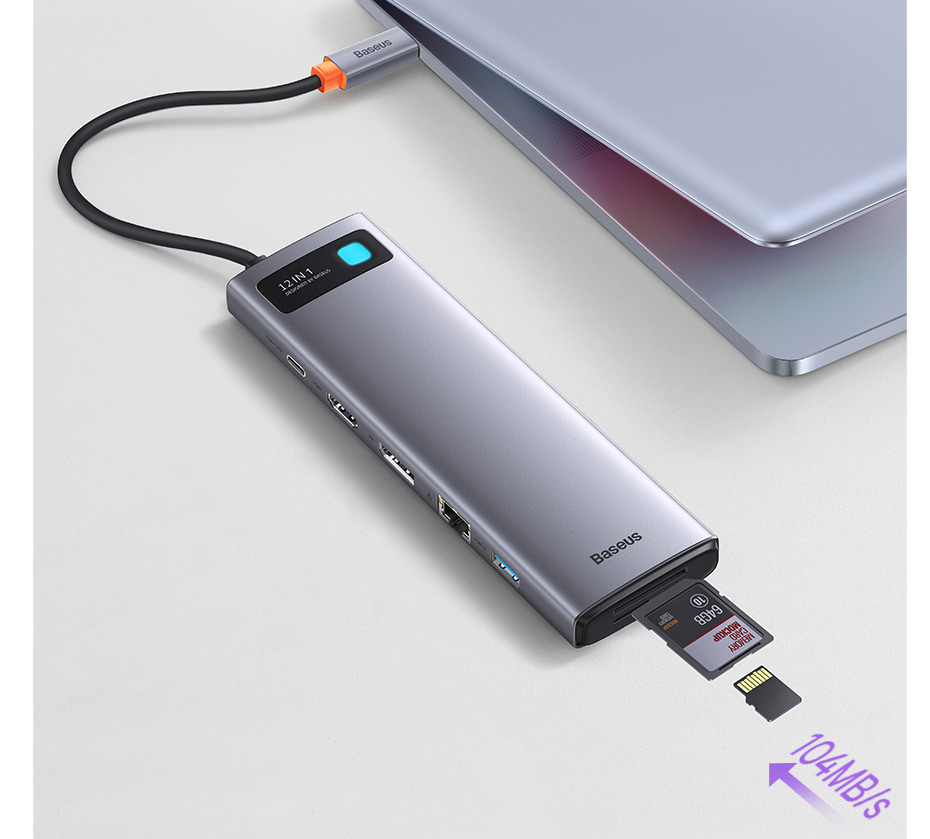 SD/TF
Pictures and Files Transferred in Seconds
Perfect for laptops without card reader slots
Transmission speed approx
104 MB/s
High-quality HUB Detailed
Design for Exceptional Experience
1) 3.5mm audio port
Connect to earphones, speakers and more
*Suppors 48KHz, 16bit audio formats, and is only CTIA cetified, if you want to conform to OMTP standards, please use an adapter.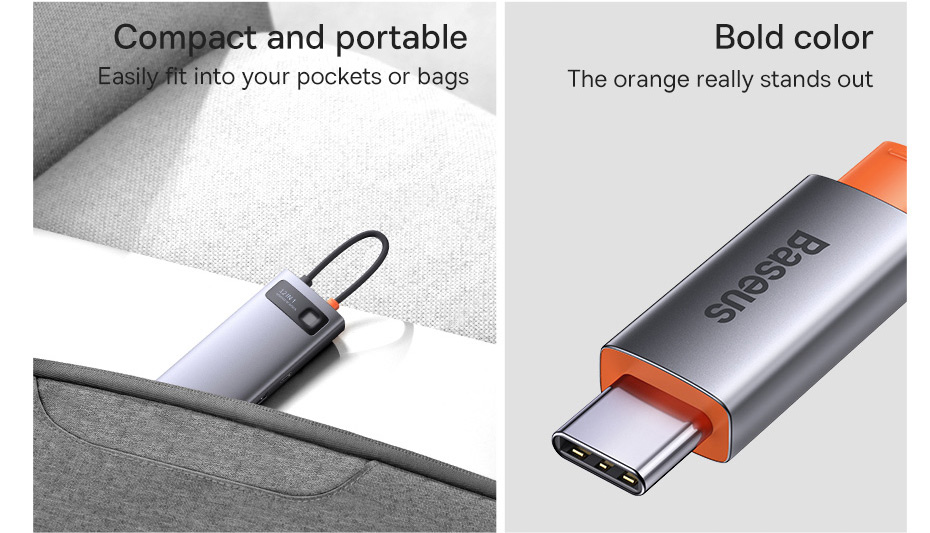 2) Compact and portable
Easily fit into your pockets or bags
3) Bold color
The orange really stands out
4) Operating status at a glance
Soft blue indicator light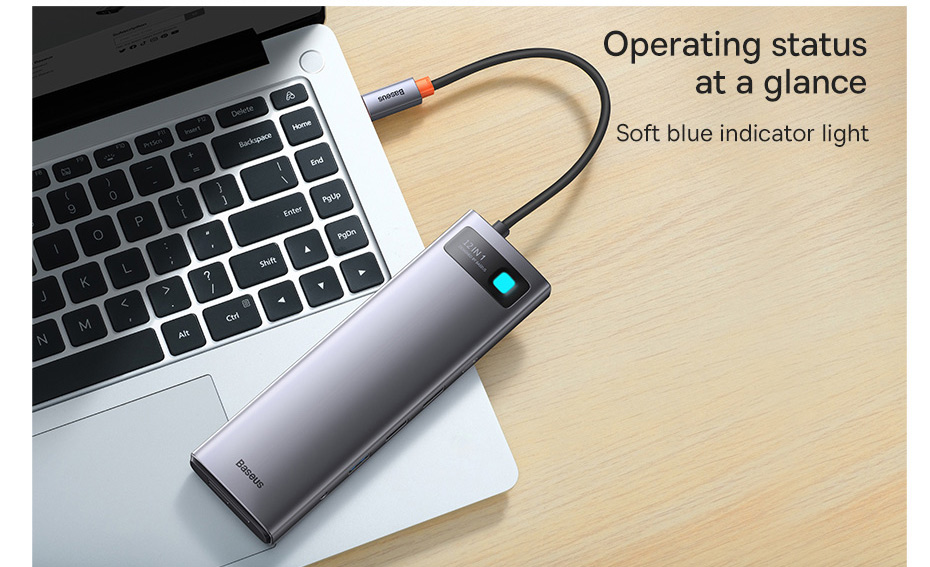 High Compatibility
Plug and Play
Compatible with Google Chrome OS, Windows, Apple OS, Linux, Vista and other operating system
Driver-free installation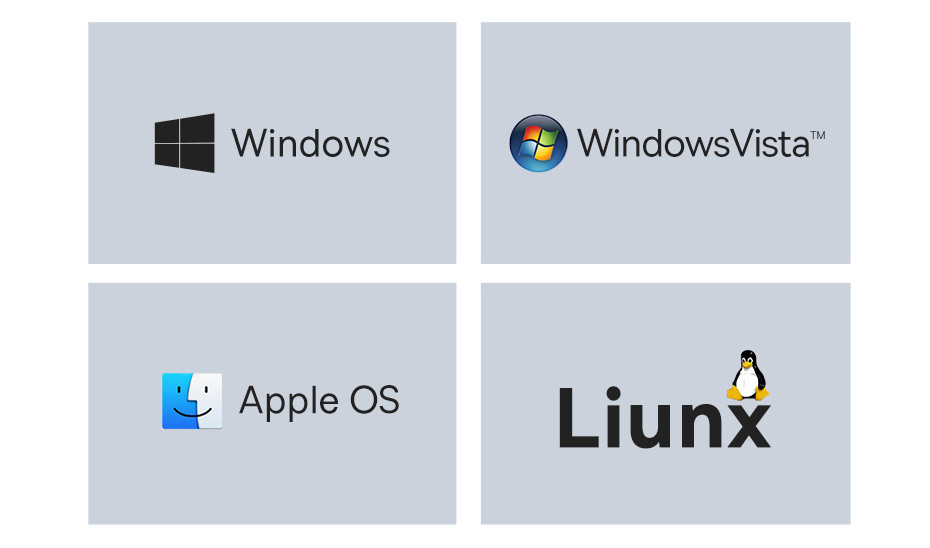 Type-C Port
Laptops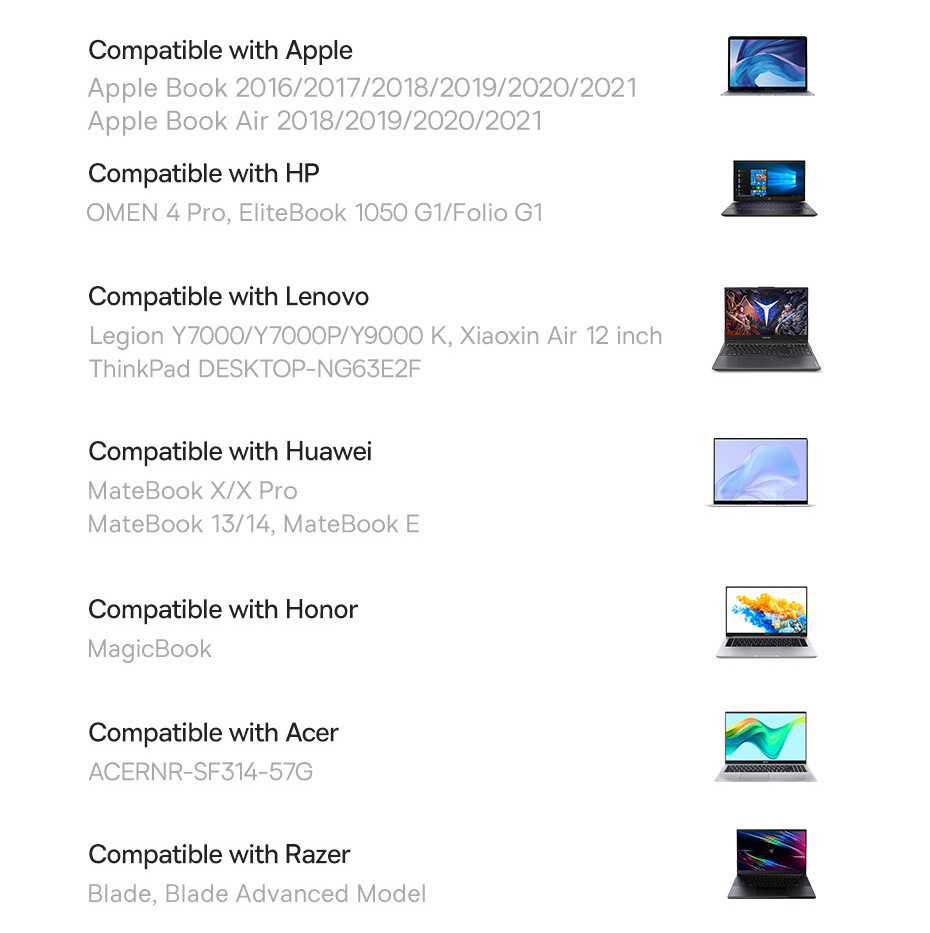 Tablets

Phones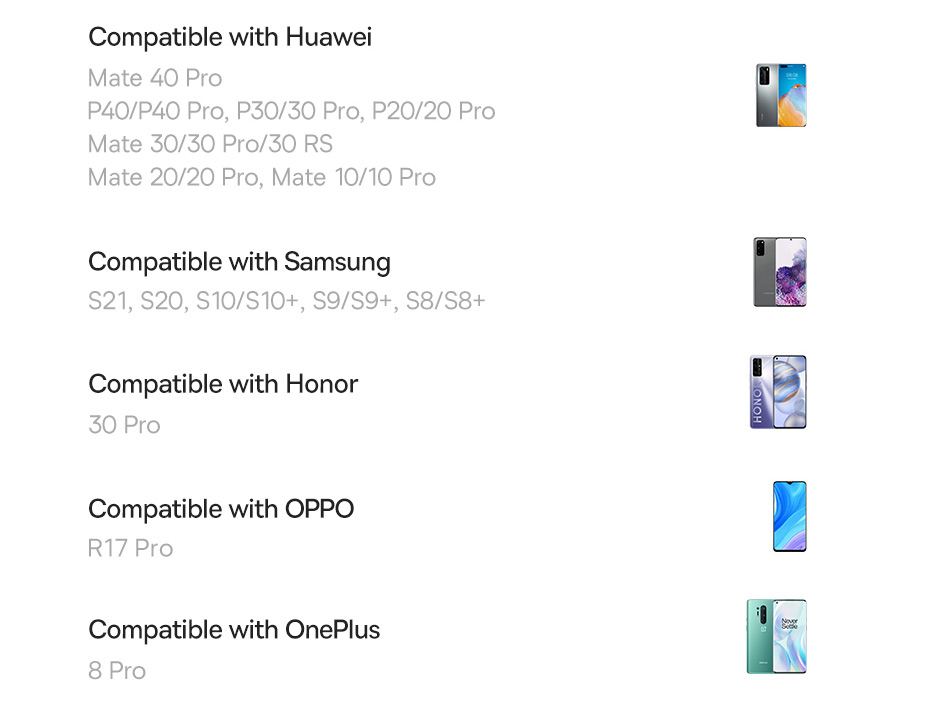 Product Parameters
Name:Baseus Metal Gleam Series 12-in-1 Multifunctional Type-c HUB Docking Station
4K HD: 8K@30HZ(Max)
DP: 8K@30HZ(Max)
USB3.0: 5 Gbps(Max)
USB 3.1: 10 Gbps(Max)
Type-C 3.1: 10 Gbps(Max)
Type-C PD: 100W(Max)
RJ45: 10 Mbps/ 100 Mbps/ 1000 Mbps
SD/TF: 104 MB/s(Max), Do not support data reading at the same time
3.5mm audio: Support headphones, audio output
Input: 5V=3A, 9V=3A, 15V=3A, 20V 5A
Output: 5V=0.9A
Operating systems: Windows, Apple OS, Linux, Vista etc.
Applicable devices: Mainstream Type-c laptops,mobile phones such as Apple book Pro 2016/2017/2018/2019/2020/2021, Apple Book Air 2018/2019/2020/2021 etc.
Weight: about 135g
Package Display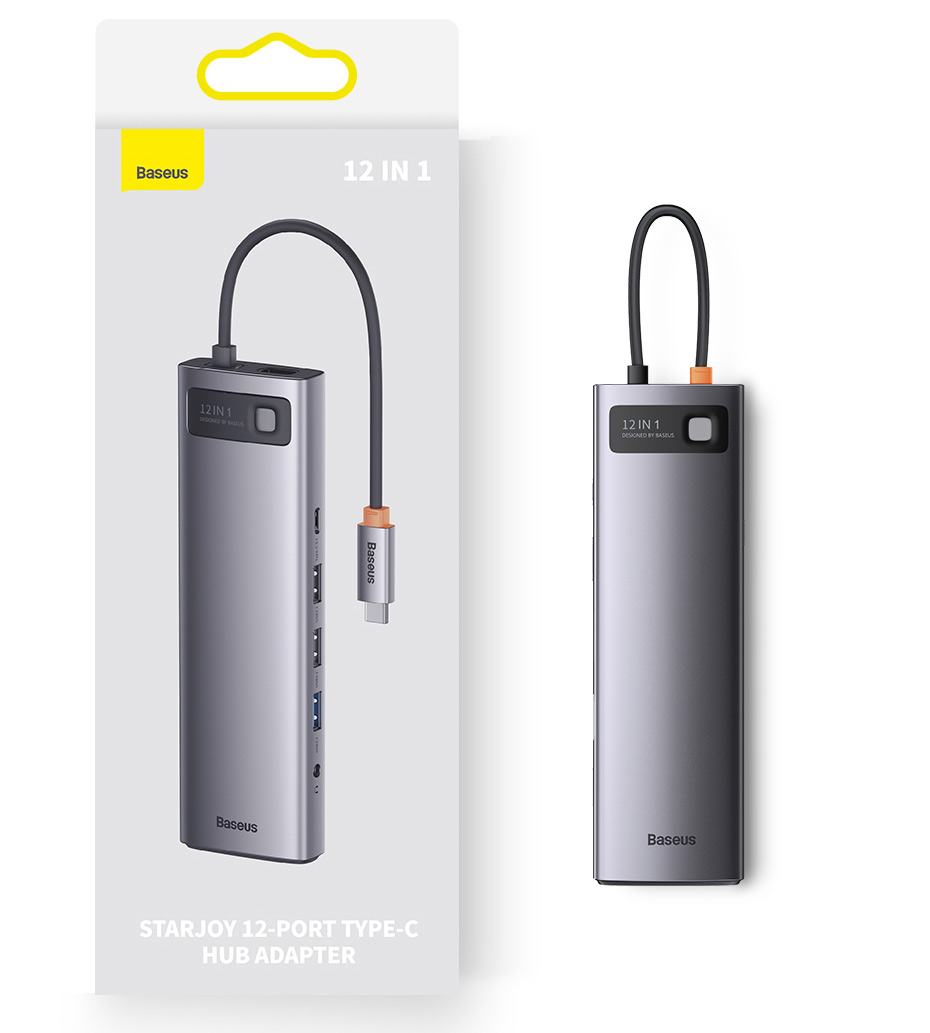 FAQ
Q: Does this product support projecting screen for phones and Pads ?
A: It supports projecting screen for phones with USB C ports and Pads with Type-C ports .
Q: What's the maximum hard drive capacity for the USB port ?
A: The USB port supports hard drives with capacities up to 4TB, please connect a PD to the device when reading from high-capacity hard drives to avoid sudden interruption caused by insufficient power supply.
Q: Dose this product support Apple Book Pro 2021 with the latest M1 chip ?
A: Yes. it does.
Q: What to do if the 4K HD / DP port doesnt support projecting screens ?
A: Please change the monitor input to "4K HD port" or "Settings/Others" of your laptop .
Q: Can I use this product to charge for Samsung phone ?
A: The PD port on Metal Geam series product does not support charging for Samsung phones when they are turned off, only supports changing them when they are turned on.
Q: Why can't i charge a laptop through the PD port ?
A: The charging port and the data transmission port are are separate on some laptop.
E.g. for Huawei Matebook X, the transmission port cannot be used to charge laptops.
Q: Does this product support fast charging for Dell, Lenovo and other laptops ?
A: Yes, but please use with original adapters (for Lenovo, Dell, and HP laptop have charging protections, if the systems detects non-original adapters, the charging effiency will be compromised.) The measured output power for Apple Book Pro is 89W when using a 96W adapter(withholding 5-8W).
Q: How to connect to the RJ45 access for gigabit network ?
A: 1) For Windows systems, go to the "Internet Connection" interface to check the Ethernet status, 100Mbps is megabit network, 1000mbps is gigabit network
  2) For Apple systems , go to Preference Settings→Internet→Advanced→ Hardware, 100Base-T is megabit network, 1000Base-T is gigabit network .
Q: Does this product support dual-channel audio output ?
A: Yes. it also supports microphone input.