● Semi-open active noise reduction 2.0 1
● "Air feel" comfortable to wear 2
● High-resolution sound quality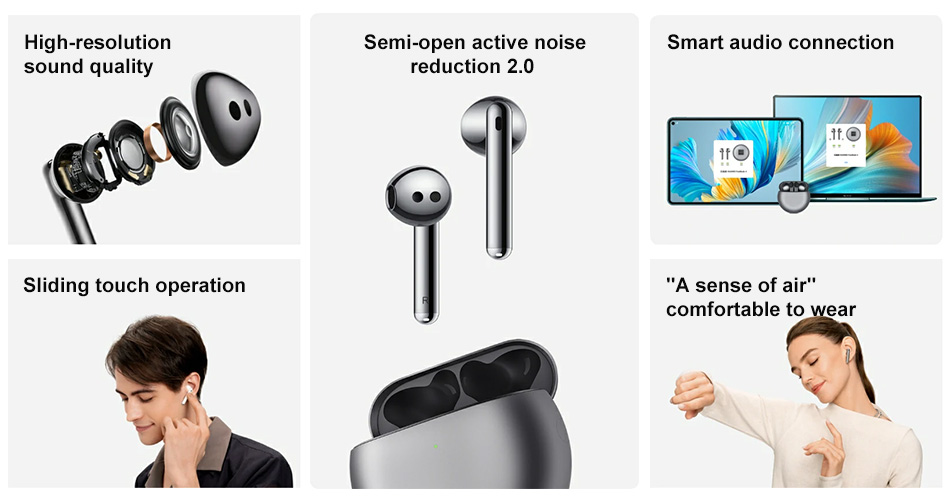 &Main Features&
Spread name:HUAWEI FreeBuds 4
Sensor:Microphone sensor, wear detection sensor.
Bluetooth:Bluetooth 5.2
Charging time:Charging the earphones in the box: about 60 minutes; wired charging in the empty box: about 60 minutes
Battery capacity:Earphone: 30 mAh; Charging box: 410mAh
Earphone: 30 mAh; Charging box: 410mAh:Full earphones, listening to music: 4 hours (noise reduction off), 2.5 hours (noise reduction on); with charging box, listening to music: 22 hours (noise reduction off), 14 hours (noise reduction on)
HUAWEI FreeBuds 4
Semi-open active noise reduction 2.0 1 | "Air feel" comfortable to wear 2 | High-resolution sound quality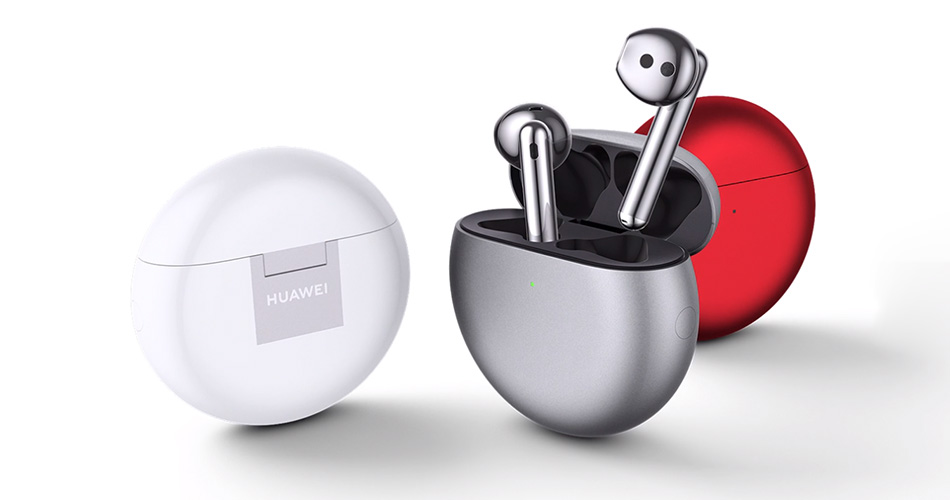 Semi-open active noise reduction 2.0
New level of comfort and noise reduction HUAWEI FreeBuds 4 wireless earphones have an excellent semi-open in-ear design and good ventilation, bringing a more comfortable wearing experience. With the industry's leading human ear adaptive noise reduction technology, it moderately reduces external low-frequency noise, making your hearing more comfortable during noise reduction .
*The semi-open active noise reduction effect is easily affected by the size of the ears. Compared with the big ears, the small ears fit better, and the noise reduction effect is more obvious. It is recommended to keep it close to the ear when wearing it to get a better noise reduction effect.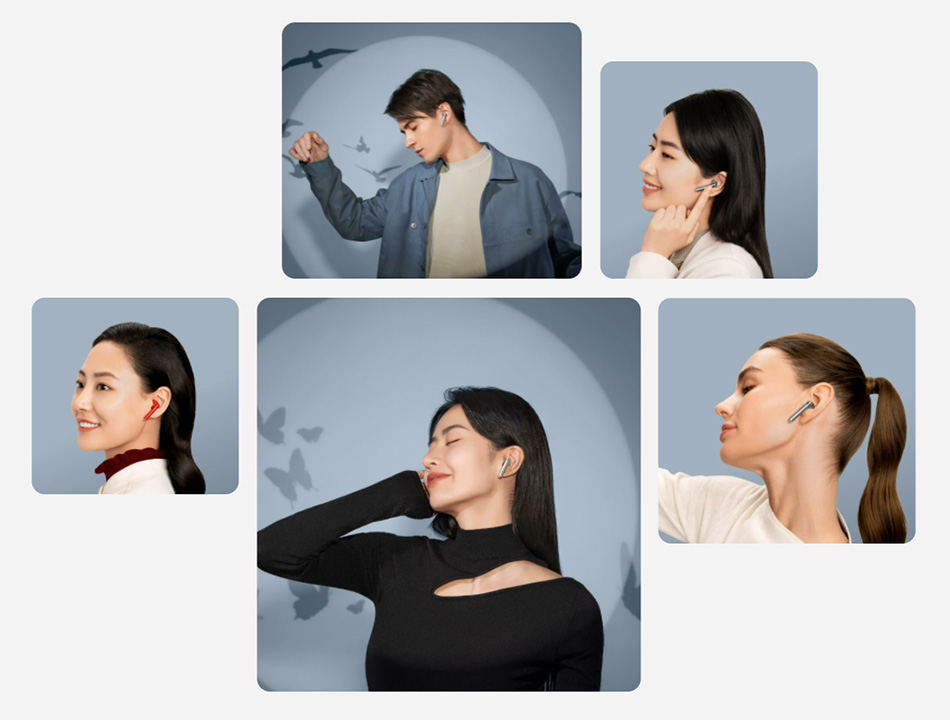 Adaptive noise reduction , exclusive to your quiet
After turning on noise reduction, the adaptive noise reduction technology can detect the current ear canal structure and wearing state, and intelligently match the best parameters among multiple sets of noise reduction parameters, so that your ears can obtain exclusive noise reduction effects. HUAWEI FreeBuds 4 wireless headphones will attenuate the low-frequency noise of the environment, so that you will be immersed in the music without missing the voice of your friends or the information broadcast of the station .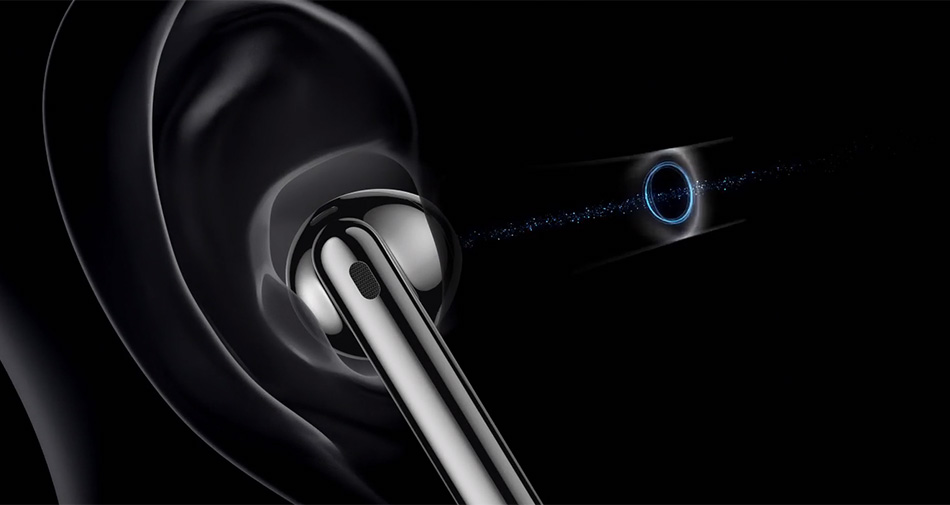 "A sense of air" comfortable to wear 2
Mellow light, love does not release the hand The design of the charging box interprets the softness of the curve with a perfect circle. The gentle touch, a full grip, feels more comfortable. Lightweight, put it in your pocket or handbag, carry it with you, and enjoy your travels.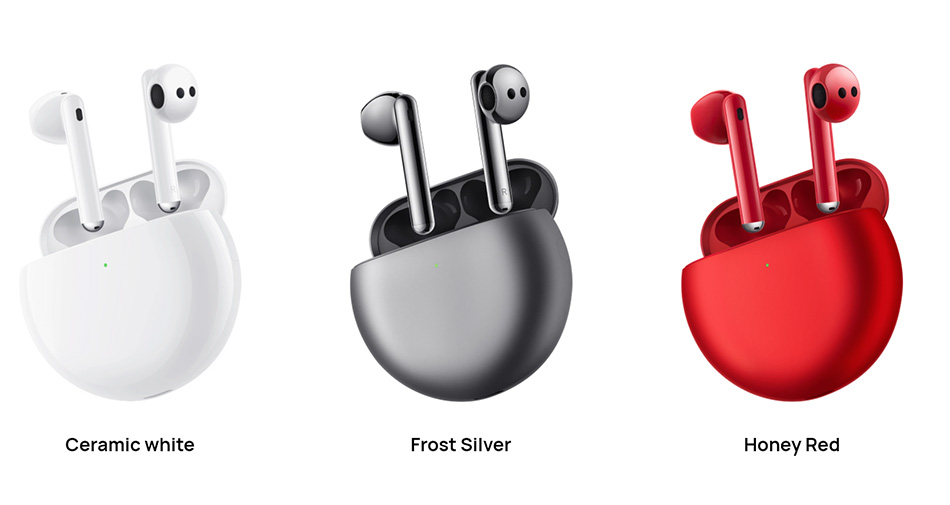 Gentle close to the ear, light and comfortable
Carry out tens of thousands of ergonomic simulation tests on the headset, and carefully polish every detail to make it fit the ear just right. Each ear is only about 4.1 g 2 , allowing you to enjoy the "airy" wearing experience.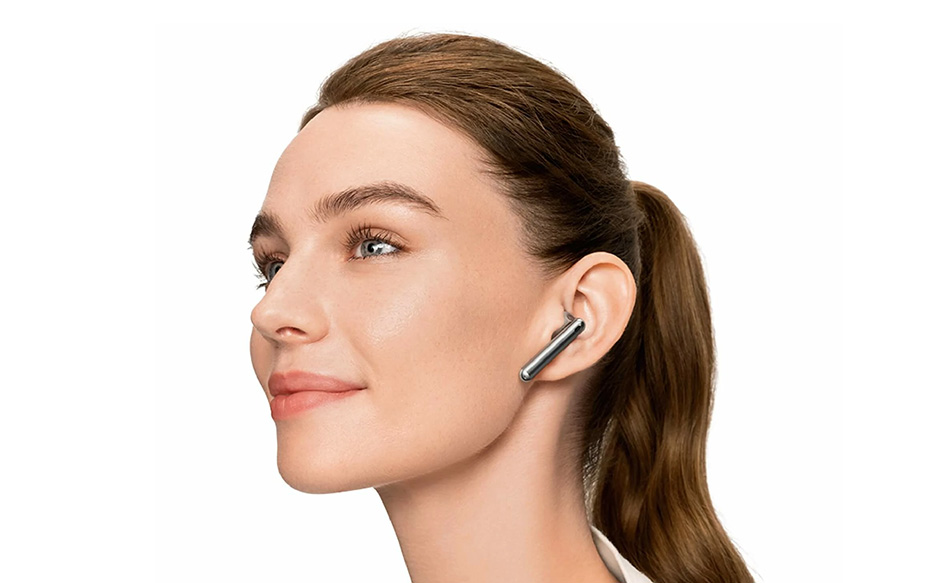 High-resolution sound quality
Surging bass , reaching the heart The highly airtight independent sound cavity and air duct form a set of low-frequency enhanced engine. The flow of air in the low-frequency engine produces resonance, bringing surging bass, and small headphones can also arouse powerful sound waves.
Transparent treble , precise into the ear
Professional 14.3 mm wide-range sounding unit, with a sound frequency range of up to 40 kHz, making the treble transparent and full, and every note is accurate to the ear.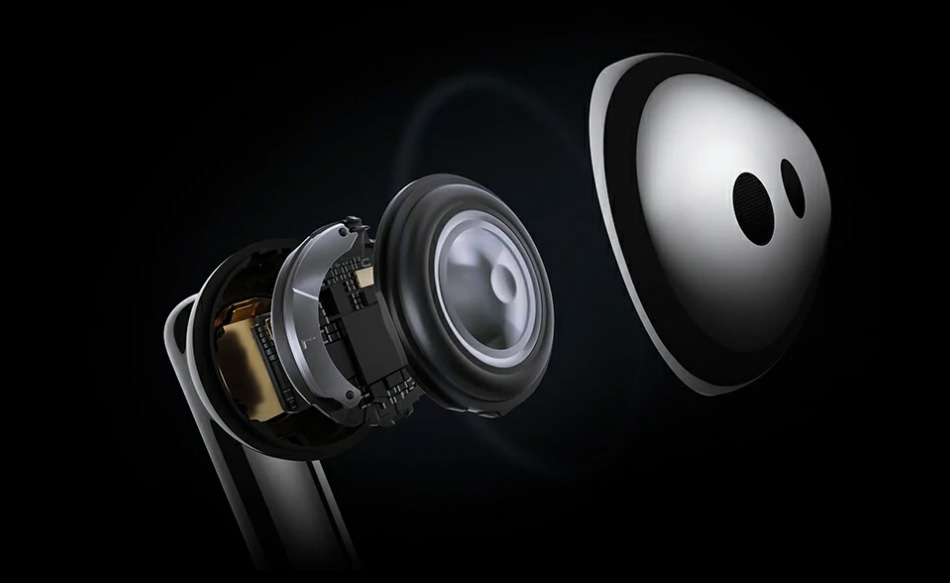 Double click on the left/right earphone:
Answer/hang up the call, play/pause music, switch the previous/next song, wake up the voice assistant
Slide left/right earphone:
Slide up to increase the volume, slide down to decrease the volume
Long press on left/right earphone:
Turn on/off noise reduction, reject calls
Abundant headset sliding touch operation, so you don't need to take out your phone frequently during use. Adjusting the volume or answer the phone, one-touch functions that is up. 4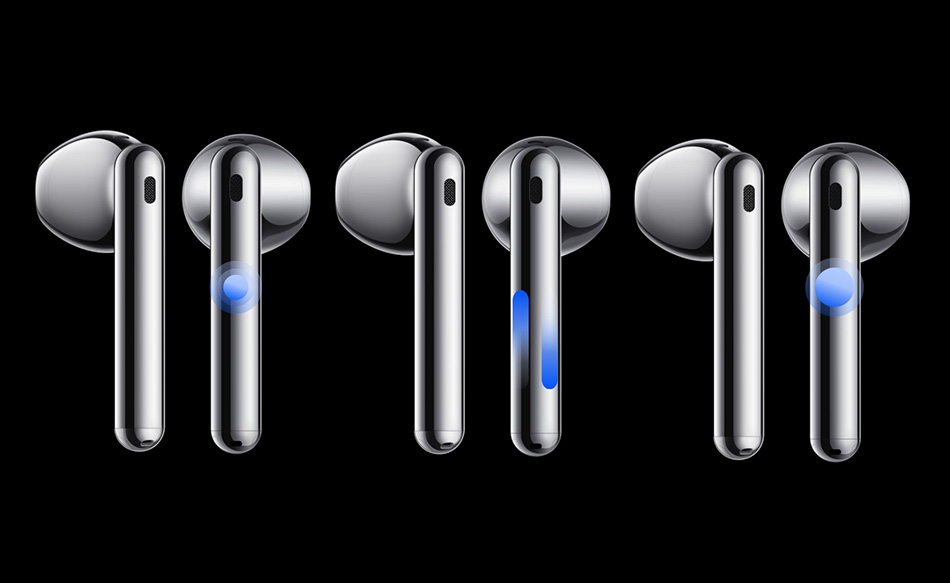 Smart audio connection
Dual-device connection , fast is not at all When opening the cover, you can automatically pair with nearby mobile phones, tablets, and PCs, and support simultaneous connection with two devices. Audio can be switched between devices in real time, eliminating the trouble of reconnecting . 5
*The page UI interface is subject to actual conditions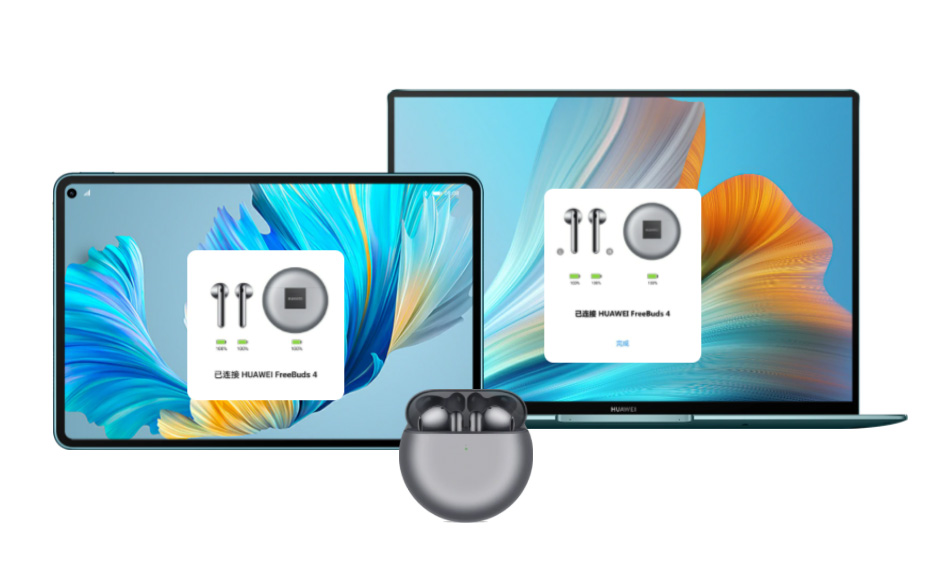 Multi-device switching , step in place
You can connect the audio intellectual life of APP Center 6 , Management and headphones connected devices, but also to achieve fast among multiple devices by APP switch.
*The page UI interface is subject to actual conditions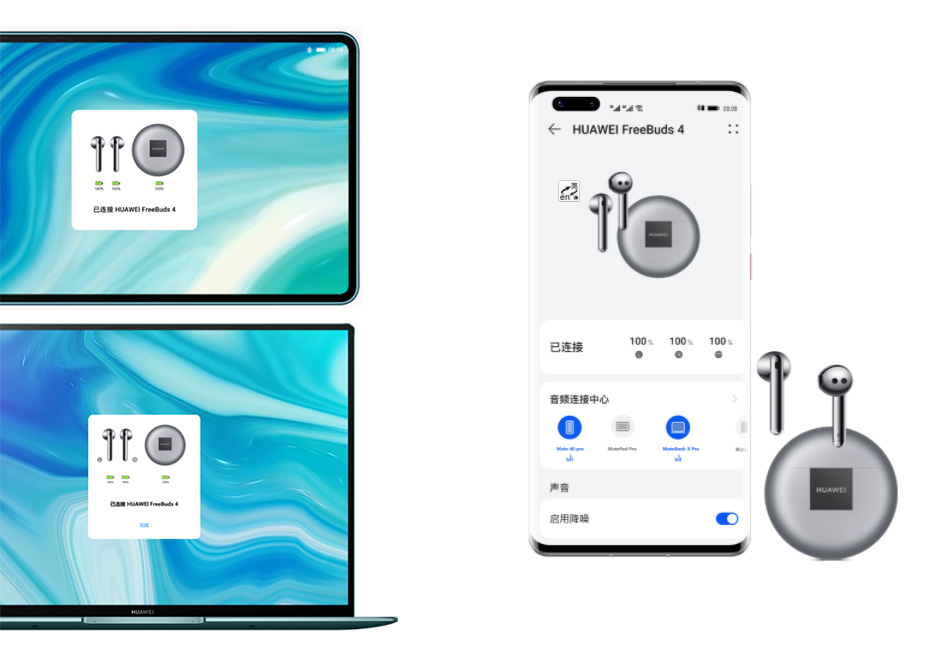 Audio entertainment assistant
Wireless high-definition recording , with good sound for good stories You don't need to prepare an additional microphone, you can use HUAWEI FreeBuds 4 wireless headphones with an audio sampling rate of up to 48kHz to achieve high-definition recording. 7 shoot Vlog or broadcast, "a clear voice mode" can weaken noise and enhances the human voice, noisy environments can hear your voice. "True Live Mode" can capture the sound details of the surrounding environment and record vivid live stories.

Low latency game , to seize the outcome of a moment
Thanks to the new game audio coding, the HUAWEI FreeBuds 4 wireless headset with the Hongmeng operating system Huawei mobile phone can achieve a full-link game delay as low as 90 ms, and with the EMUI system, it can achieve a delay as low as 150 ms. enjoy dripping every minute of it. 8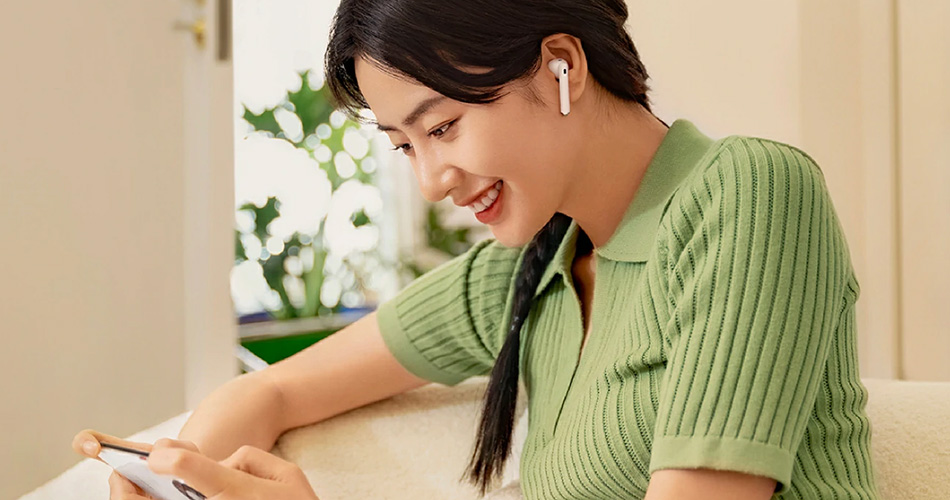 Fast charging , always accompanied by music
22 Hours
Turn off noise reduction and play music with the charging box
4 Hours
The earphone is full of music at a timexxx
2.5 Hours
Earphone fast charging for 15 minutes music playback
Turn on noise reduction
14 hours of music playback with charging box The earphones play 2.5 hours with full music at a time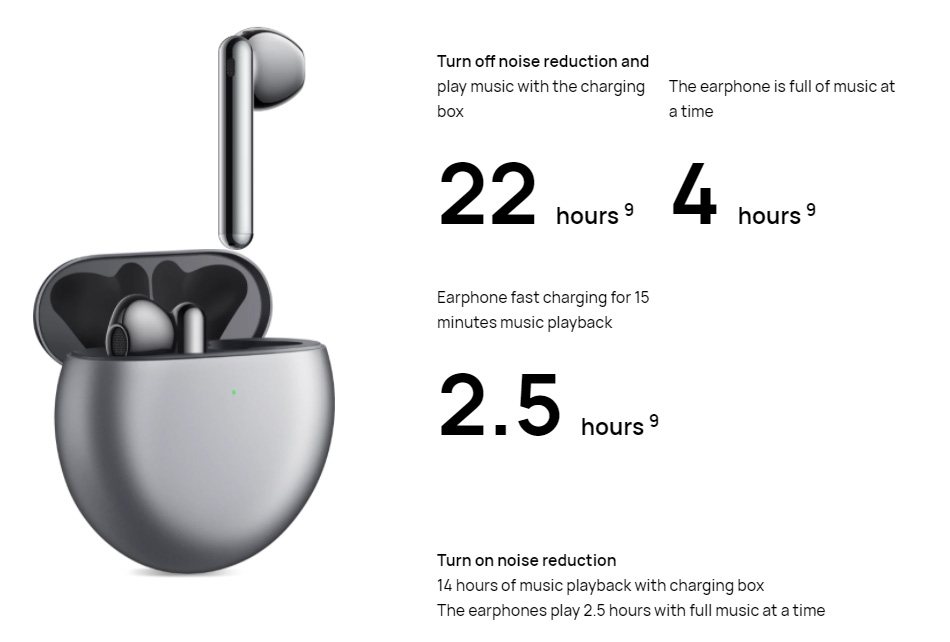 Accompaniment for every moment of life
Huawei Music provides tens of millions of music libraries, popular playlists, exclusive columns, audio stations, HiFi ultra-clear sound quality songs, and other personalized services, such as panoramic multi-channel, running music, ringtones, and dress up. Users can enjoy them anytime, anywhere The fun of high-quality music .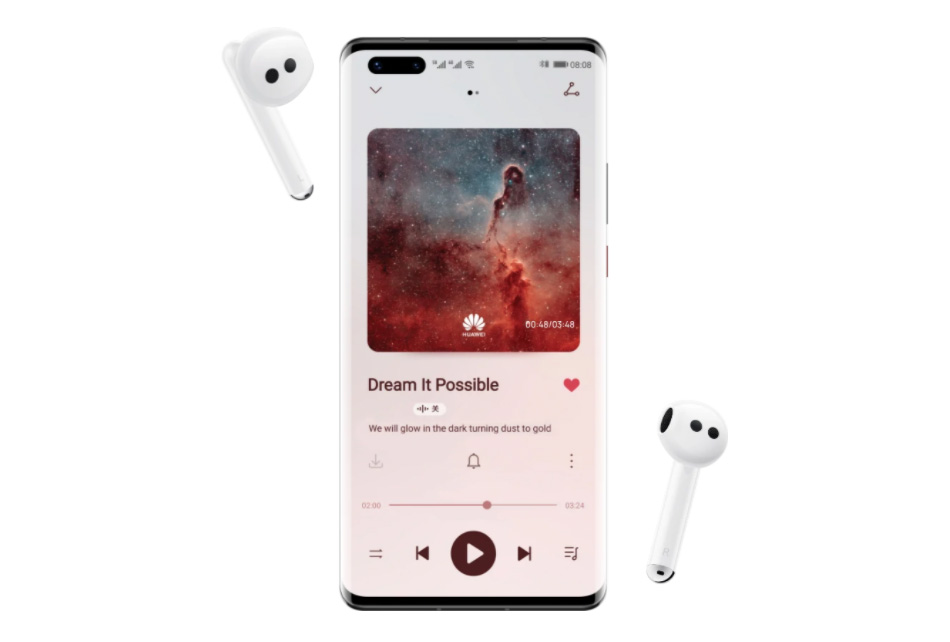 1.The semi-open active noise reduction effect is easily affected by the size of the ear shape. The small ear type is more suitable for wearing and the noise reduction effect is more obvious. The big ear type is more loosely worn and the noise reduction effect is not obvious. It is recommended to keep the earphones in close contact with the ears when wearing them to get a better noise reduction effect. In addition, the active noise reduction function is more obvious in the low frequency range, such as the roar of cars or buses, the sound of air conditioning in streets and offices. The noise reduction effect of medium and high frequency noise is not obvious, such as human voice, broadcast, whistle, and impact sound.
2.A single headset weighs about 4.1 g, and the data comes from Huawei Labs. The weight is the weight of the lightest version. Different version configurations will have different weights . The actual product weight shall prevail.
3.The data comes from Huawei Labs.
4.More functions can be set through the Smart Life APP, and the actual functions are subject to the interface display .
5.The phone and tablet pairing pop-up window function must be used with Huawei devices of EMUI10 and above. The PC headset pairing pop-up window function requires some Huawei headsets and some Huawei PCs of Computer Manager 11.0.9 and above to support this function. The first supported PC model is HUAWEI MateBook 16. If you have any questions about function experience, usage restrictions, supported models, etc. during purchase or use, please contact Huawei customer service (950800). 6.The audio connection center function needs to upgrade the Smart Life APP to the latest version, and the iOS version Smart Life does not support this function.
7.High-definition recording (real live, clear voice) function to record through headphones, need to be manually turned on in the Smart Life APP. Some Huawei smartphones are supported. The models are as follows: HUAWEI Mate 40E, HUAWEI Mate 40, HUAWEI Mate 40 Pro, HUAWEI Mate 40 Pro+, HUAWEI Mate 40 RS Porsche Design and HUAWEI P40, HUAWEI P40 Pro, HUAWEI P40 Pro+, HUAWEI Mate X2, At the same time, the system needs to be upgraded to EMUI 11 and above. This function needs to be used with mobile phone camera, recording, mainstream short video APP or APP with live broadcast function .
8.The game delay data comes from Huawei Labs, which is obtained from the test using the HUAWEI Mate 40 mobile phone upgraded to the Hongmeng operating system, including the total delay of games, mobile phones, and headsets. Actually, it is affected by the adjustment of mobile phone model, system version, game type, game version, etc., please refer to the actual situation .
9.The wireless charging function requires a wireless charging version of the headset. Battery life and charging data come from Huawei Labs. Laboratory test conditions: earphones or charging box are fully charged (charging for more than 1 hour), 50% volume, AAC mode, under a 25°C environment, the actual battery life is affected by volume, sound source, environmental interference, product features and usage habits. Fast charging of earphones needs to be realized when the earphones are low in battery power .
We found other products you might like!