Huawei VR Glass 6DOF Game Set
- 2.1-inch Fast LCD display (90Hz)
- 3K resolution
- Support 3DoF and 6DoF (degrees of freedom)
- VR mobile screen projection
- Virtual reality (VR) glasses for 3D
- VR sound effects: spatial positioning, environment modeling, multi-channel sound
- Built-in microphone
- Including 3 DOF controller
- Supports 0-700 degrees diopter adjustment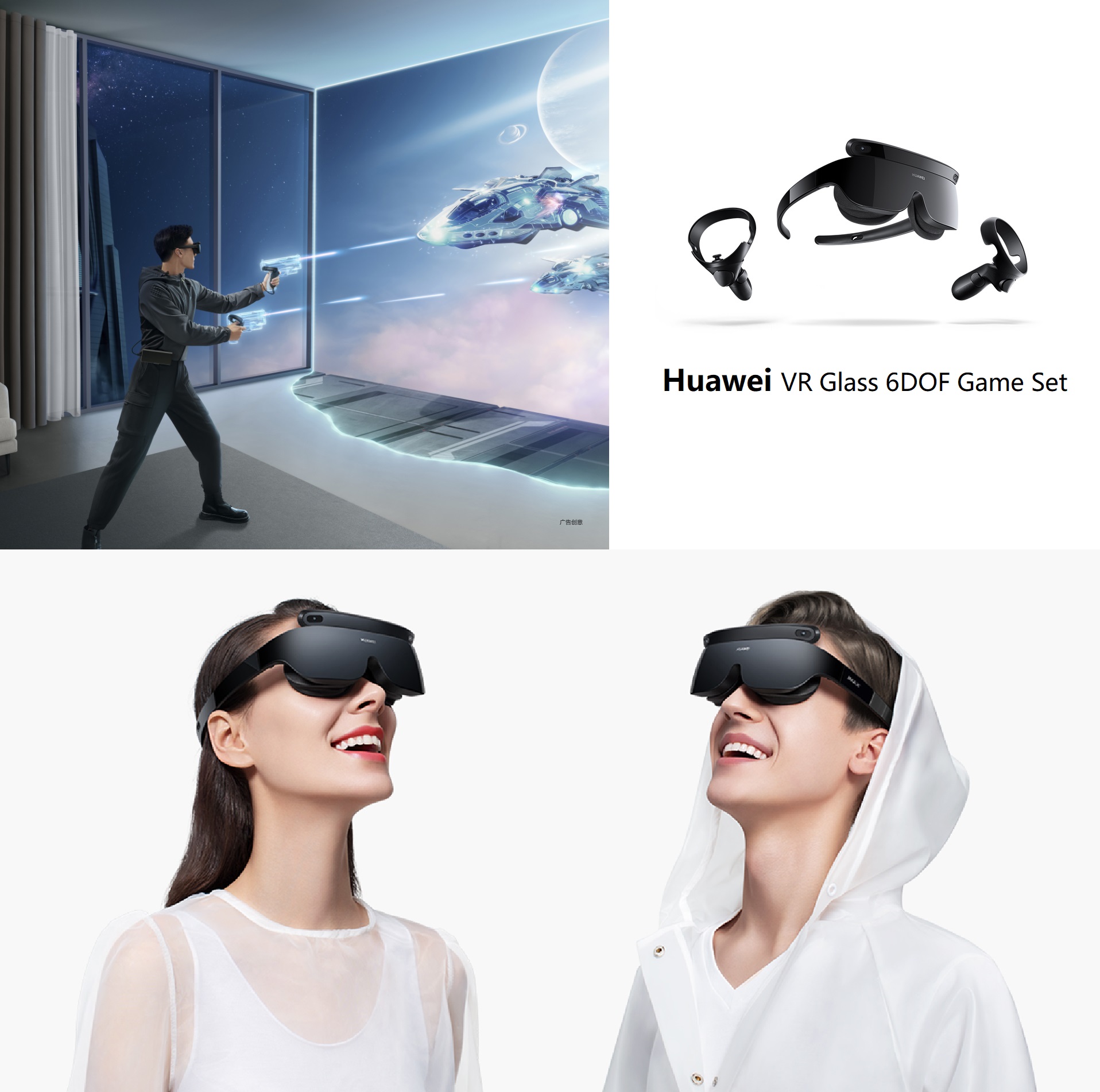 The Huawei VR Glass are stylish VR glasses you can connect to your smartphone. With a resolution of 3200x1600, the Huawei VR Glass CV10 has a greater resolution than its competitors Index, Quest or Focus Plus. The VR IMAX headset is foldable and comes with an exclusive travel bag. With its high-end nano texture coating the Huawei VR Glass look more like cyberpunk glasses than ordinary VR googles. Its design with elastic support structure makes it suitable for most face types. The interior face mask can be easily removed and cleaned. The Huawei VR headset becomes the third screen, along your smartphone and TV. Virtual reality (VR) is the best way to explore the world without limitations. Immerse yourself in an alternate, panoramic or 3D universe brought to life with Huawei VR Glasses CV10 headset. The VR Glass need to be connected to a phone or computer for power supply through its USB-C port. Thanks to a thickness of only 26.6mm and a weight of just 166 grams, the Huawei VR Glass is comfortable to wear also for longer times. The VR Glass comes with two independent 2.1-inch Fast LCD screens with low latency. The headgear features a 3K resolution with immersive pictures and a 90° field of view (FOV). For audio, the Huawei VR Glass has integrated speakers and a 3.5mm headphone jack for external headphones. Material

Plastic

Color

Black

Additional Info

Model: CV10




Double FAST LCD screen;




Screen color: 16.7 million colors;




Resolution: Monocular resolution 1600 x 1600 pixels, binocular resolution 3K (3200 x 1600 pixels);




Screen pixel density PPI: 1058;




Refresh rate: 70Hz (mobile mode), 90Hz (computer mode);




3DOF handle with 2AA batteries (not included);




Compatible with Huawei Mate 30 series (TAS-AL00, TAS-TL00, TAS-AN00, TAS-TN00, LIO-AL00, LIO-TL00, LIO-AN00, LIO-TN00, LIO-AN00P), Huawei P30 series (ELE- AL00, ELE-TL00, VOG-AL00, VOG-AL10, VOG-TL00), Huawei Mate 20 X 5G (EVR-AN00), Huawei Mate 20 series (EVR-AL00, EVR-TL00, HMA-AL00, HMA-TL00, LYA -AL00, LYA-AL10, LYA-TL00, LYA-AL00P), Huawei Honor V20 series (PCT-AL10, PCT-TL10).

Size

51.5 x 26.6mm

Display Size




2.1 Inches

Weight

166 g

In the Box
1x Data Cable,
1x Remote Control,
1x Travel bag,
1x VR Headset,
1x Quick Start Guide (Chinese),
1x Warranty card (Chinese)
Notice:VR glasses need to be used with mobile phones or computers
1.Phone models only support Mate 30 series, P30 series, Mate20 series(include mate 20 X 5G) and Honor V20 series,the Chinese version of the above models has been adapted, please refer to the product details page for specific supported models.

2.Phone version must be upgraded to emui 10.0 or magic UI 3.0.0 or later

3.Connect the VR glasses to the phone using the original VR phone data cable (black),don't support previous generation data cables or other third-party cables.

4.The application installation interface does not appear when the mobile phone connects to the VR application,Please uninstall and reinstall "Huawei VR Service"。

5.Computer configuration requirements 6.Belkin VR cable must be purchased separately for computer to connect vr glasses
Support Phone Model:
HUAWEI Mate 30 series(TAS-AL00、TAS-TL00、TAS-AN00、TAS-TN00、LIO-AL00、LIO-TL00、LIO-AN00、LIO-TN00、LIO-AN00P)
HUAWEI P30 series(ELE-AL00、ELE-TL00、VOG-AL00、VOG-AL10、VOG-TL00) HUAWEI Mate 20 X 5G(EVR-AN00)
HUAWEI Mate 20 series(EVR-AL00、EVR-TL00、HMA-AL00、HMA-TL00、LYA-AL00、LYA-AL10、LYA-TL00、LYA-AL00P)
Computer Support Configuration:
CPU:Inter Core™ i5-4590 equivalent or higher
GPU:NVIDIA GeForce GTX 1060 equivalent or higher
RAM:8GB RAM or above
Video Output:One DisplayPort1.2 or above
USB Port:Two USB-A3.0 or above
System:Windows 10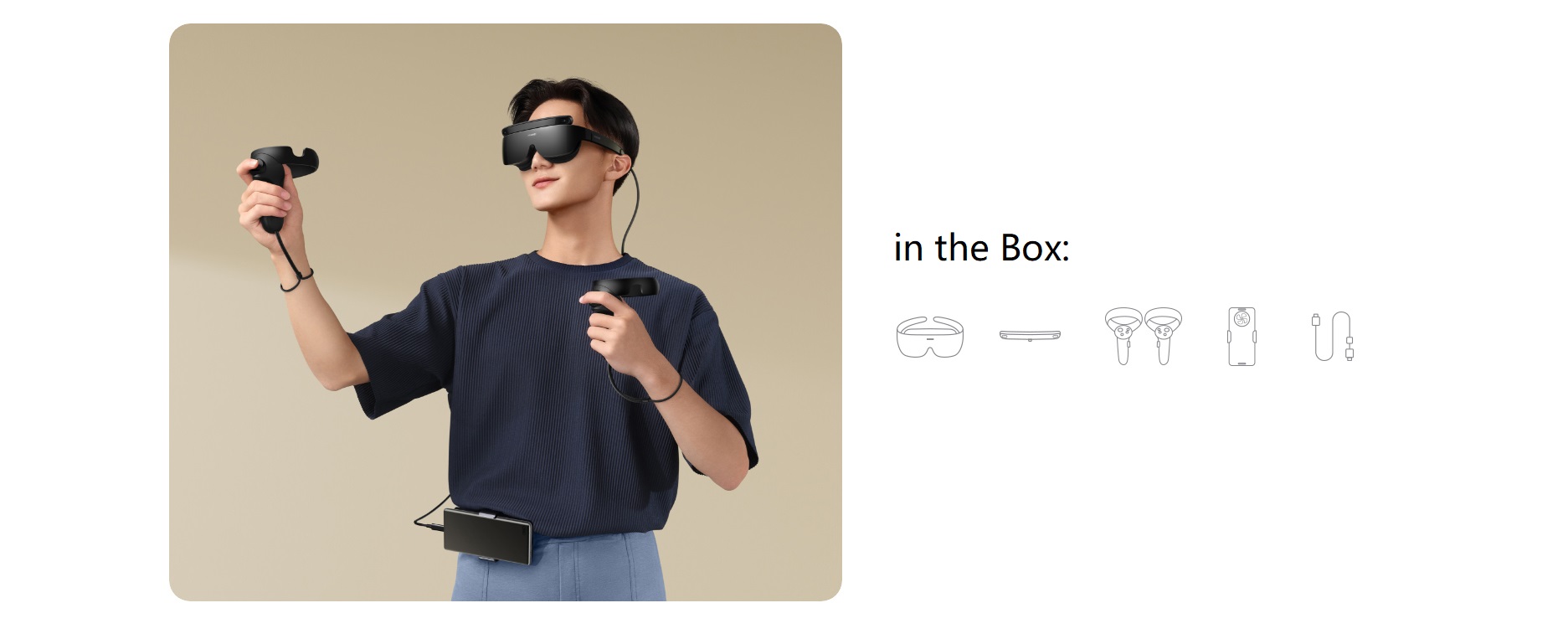 Write your content here...