OPPO 45W AirVOOC Wireless Charger
OPPO 45W AirVOOC Wireless Flash Charger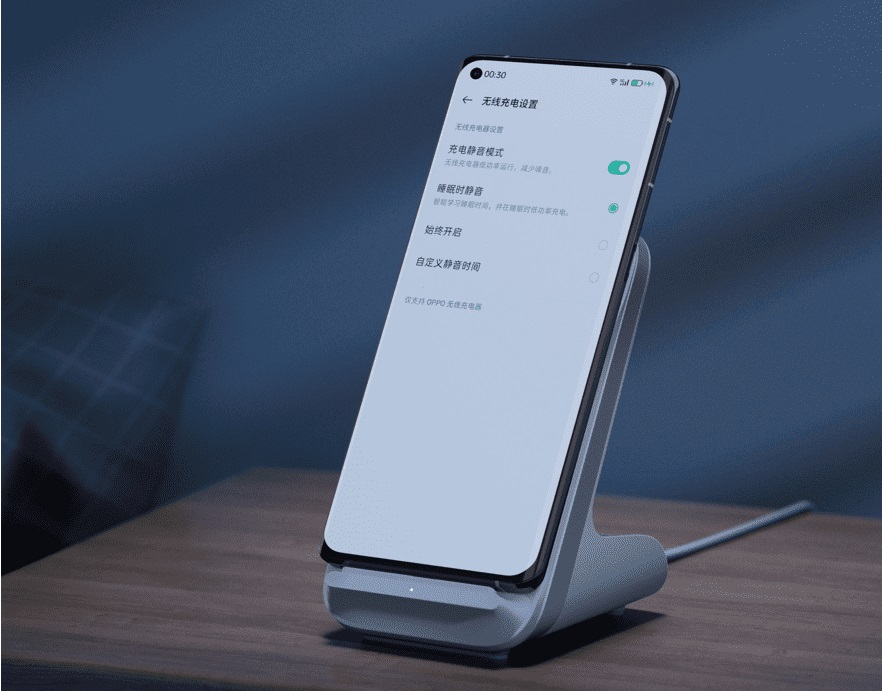 Description:
Vertical design, easy to play while charging
The use of nearly 60° three-dimensional design is in line with ergonomic principles, providing a comfortable viewing angle, while also effectively improving the stability of the placement.

Built-in dual coils, wireless charging can be done horizontally and vertically
The built-in dual coils effectively expand the sensing range. At the same time, it is equipped with an independent MCU to build a fast charging architecture with mobile phones and adapters. In 30 minutes, it can charge 45% of Find X3 series and 55% of Ace2, horizontally and vertically. Can flash charge.

Turbine butterfly wing is air-cooled to reduce fever
The distance between the base and the desktop is increased by only about 3mm, which effectively increases the air intake. With thin and dense fan blades, and self-developed butterfly wing air cooling technology, the heat dissipation performance of the system is increased by 23%, and the wireless flash charging maintains a low temperature state. .

Mobile phones, earphones, wireless charging are all available
Intelligently identify different devices, output multiple powers, and provide up to 15W charging services for smart devices such as mobile phones and earphones compatible with QI wireless charging standards

OPPO devices that support wireless charging: OPPO Ace2 / OPPO Find X3/X3 Pro / OPPO Enco W51

Intelligent silent mode
It has an intelligent mute mode, which can automatically mute at night, or adjust the mute time according to your habits. You can also customize the mute time.

Six protection
Over voltage protection | Over temperature protection | Over current protection | Electrostatic protection | Under voltage protection | Foreign body detection

With shell, can also flash charge
The maximum charging power can be reached when the shell thickness is within 2mm

Product model: OAWV02
Product color: White
Input interface: USB-C
Input: 5V=4A 9V=2A 10V=6.5A 20V=3.25A Max
Output: 45 Max


Packing list:
Wireless charger*1
Fast charge USB-C data cable*1
Write your content here...